Back to Top
Jobscan Tutorial
How to Use Jobscan: A Step-by-Step Guide
---
Why Resume Optimization Matters
The more effectively you can tailor your resume for a specific job, the better your chances are. Generic resumes are a dime a dozen, and unlikely to do well in an ATS.
Using Jobscan, you can easily optimize your resume against any job description and make yourself a top candidate.
---
Jobscan Introduction
Jobscan is a tool that gives job seekers an instant analysis of how well their resume is tailored for a particular job, along with how it can be even better optimized for an applicant tracking system (also known as an ATS).
Just visit Jobscan and either upload (Word or PDF files) or paste in the text of your resume, plus the text of the job posting you're interested in.
---
Match Rate
The resume match rate is a score, on a scale of 0% to 100%, of how well your resume matches up with the job description you selected.
Jobscan recommends aiming for a match rate of 80%
Your match rate is based on these four priorities, in order:
1. Hard skills
2. Education level (only when an advanced degree is included in the job description)
3. Soft skills
4. Job title
5. Other one-word keywords
Resume word count, job description word count, and measurable results are not factored into the match rate.
When you scan your resume, you may find that there are 15 or more missing skills. Do not feel the need to include every single one of those skills in your resume. Rather, focus your efforts on hard skills, especially the hard skills that occur frequently, as those will having more impact on your match rate.
Hiring managers and recruiters search for hard skills, such as "six sigma," much more often than they do soft skills, such as "passion" or "verbal communication."

Did you know that on average, resumes are almost twice as long as job descriptions? We've taken this into account in our match rate, and some hard skills are worth more in the job description than your resume.

In the case you've included all the skills in the job description and you still have not reached 80%, double up on a few hard skills in your resume even if it occurs only once in the job description.

Job title is also a factor in your match rate. If you had a similar position in the past, change that job title in "Work Experience" to the one you are applying for. As long as your roles were essentially the same, this tactic is not deceitful. If you haven't had similar job titles before, you can include it in the summary statement.
For more specialized tips, fill out your profile. It is located small nav bar when you log in, and provides Jobscan with information including your industry and your position in the job search process. With a complete profile, Jobscan's suggestions become more targeted to you personally.
Negative Keywords
Hiring managers read resumes day after day, and they are well-versed in all the cliche and overused phrases. Jobscan now picks out negative keywords, called "words to avoid" from your resume, including cliches and other words/phrases that will be red flags to the hiring manager. An example of a negative keyword is "team player". While it's an important skill, it isn't quantifiable and is used in far too many resumes.
/img/content/Jobscan-Tutorial-matchrate.png

Example of the "negative features".
Results and Findings
The longer a job description is, the better Jobscan can parse skills and keywords for analysis.
Measurable results are a crucial part of effective resumes. Anyone can list what their job duties were; recruiters and hiring managers want to see what someone's real contributions were. Turn your tired, vague bullet points into compelling accomplishments. Quantifiable results are specific statements such as "increased sales by 40 percent in 18 months" or "decreased delivery time by 30 hours per week, resulting in a savings of $145,000 per month." Most candidates can list what they did, but few list measurable accomplishments.
One of Jobscan's newest features is the ability for users to add the company name or web address for each job. The more information we get on different companies, the more specific our suggestions and ATS knowledge for each company can be.
ATS-Specific Findings
Each ATS views and interprets your resume differently. For example, some ATS recognize plural versions of a keyword as a match, while others do not. The ATS-specific feature matches the company name that you are applying to with the ATS that it uses. This feature does not yet match all companies, but coverage will continue to grow over time.
Watch a video to learn more.
Resume Word Count
Many ATS use something called signal-to-noise ratio, which means that pertinent information is compared to irrelevant information. So, using less text can actually help increase your resume's relevance. As a rule of thumb, aim for a one-page resume if you have zero to 10 years of work experience. If you have more than 10 years of work experience, you can use a two-page resume—but only if you have enough quality content to require two pages. If you pad your resume with fluff, a hiring manager might miss important information. If you are in academia, you'll use a curriculum vitae (CV) instead, which can be much longer. Many countries outside the U.S. have their own resume practices—for example, longer resumes are the norm in Australia.
---
Skills and Keywords
The skills comparison does exactly what it sounds like: it compares the skills listed in the job description to those listed on your resume. The keyword comparison compares the one-word terms found in the job description to the ones used on your resume. Most ATS consider frequency a factor—the more often a skill or keyword appears, the more important it is deemed—and that is reflected in the match rate.
Jobscan weighs hard skills much more heavily than soft skills and one-word keywords. You'll get the best results from spending the majority of your effort on working hard skills into your resume.
Exclude Skills
Jobscan also allows you to "exclude skills" and refresh you scan while scanning your resume, for example, when they are not relevant to your experience. This feature helps you customize your resume optimization experience even more than before.
Keyword Context
The "Highlighted Skills" section allows you to choose a keyword and see every use of that keyword highlighted throughout your resume and the job description. Keyword context helps you quickly and efficiently edit your resume and view how often a keyword is used.
---
Recognize Plurals
If a job description lists a skill in the plural form, such as "monthly audits," and your resume lists it in the singular form ("monthly audit"), the two skills will not be seen as a match. That's because most ATS do not consider singular and plural forms as the same word (an ATS called Greenhouse is one exception).
Jobscan built a switch you can toggle (above image) if you'd like to see singular and plural forms of keywords counted as the same keyword (but remember, most ATS see them as different words).
Many users requested the ability to have Jobscan's tool recognize singular and plural forms as the same skill. We built a switch you can toggle to see how your match rate might change if plural and singular forms of keywords were recognized as the same—but remember, the overwhelming majority of ATS on the market do not recognize different forms of a keyword as the same keyword.
---
Live Score Your Resume
New!
Jobscan Premium members have access to live scoring. Live scoring provides skill and keyword suggestions that can be added to the resume in real time. As updates are made, it immediately shows the estimated impact of each change on the match rate.
Example of the live scoring feature.
---
Cover Letter Scan
The cover letter scan feature, available to Jobscan Premium Members only, scans your cover letter against the job posting, like the resume scanner does with your resume. The qualifications used in the cover letter scanner are different than those used in the resume scanner, and include soft skills, hard skills and word count. Your cover letter scan can improve your overall match rate by up to 10%. This feature can be found after scanning your resume by clicking on the "cover letter tab" below your match rate. Keep in mind that you can only scan your cover letter after you've scanned a resume.
---
Resume Manager
The resume manager can be found at the top of your Jobscan homepage. It saves your most recent 20 unique resumes scanned. The resume manager is a place for you to organize your resumes and indicate a "master resume" to make your future scans more efficient.
---
---
Master Resume
In the Resume Manager, you now have the option to choose a "master resume". Your most recent resumes can be marked (using the toggle beside them) as your master resume or default, which means it can be used for every new scan simply by marking the "use master resume" box on the scan page.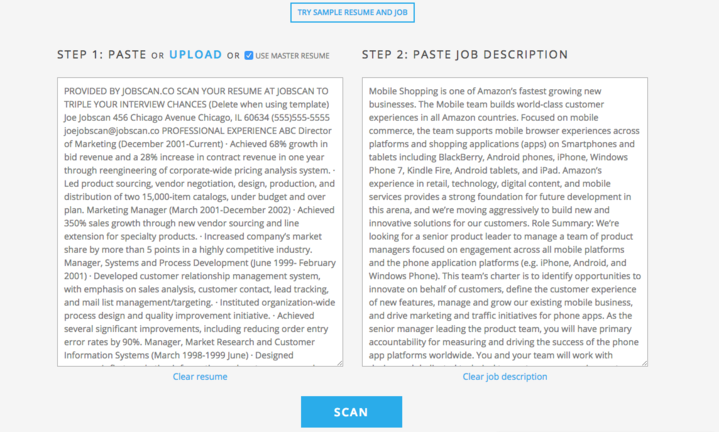 ---
Job Recommendations
On your results page, you'll find a list of jobs with similar skills to those found in the job description (this list is generated based on skills, not job titles). These job listings are from Indeed.com, the largest job aggregator on the web. Based on the location of your computer's IP address or the location you provided us, the list produces jobs within a 25-mile radius.
Once you start applying for jobs, you can take advantage of the interview tracking feature to help keep your job search organized.
---
Dashboard
Jobscan's new dashboard feature sits at the top of your home screen, and shows your number of total scans, unique resumes, unique job descriptions and your number of tracked interviews. It also shows your most recent scan and match rate.
Want to start a new scan? Simply scroll down from your dashboard!
---
Scan History
Jobscan's scan history saves previous scans, stars jobs you are most interested in, lets you view previous versions of your resume and saves previous job descriptions.
Now, when you scan your resume, you can choose to make it visible by recruiters that Jobscan plans to partner with in the near future. Not only will you be improving your resume, but you'll actually be applying for future jobs at the same time.
You can even track your interviews in your scan history. Organizing your job search with timestamps will make you more productive.
---
Job Matcher
Most job boards only show you jobs based on your job title, what you enter in, and your location. We find that limiting. We believe a more relevant job is based on your entire skillset instead of simply a job title. At the end of the day , a project manager in construction is very different from a project manager in IT.
Jobscan Job Matcher builds on top of Indeed.com--the primary job search tool by most job seekers-- job listings to suggest jobs based on the top keywords in your resume and the jobs you've been scanning against. You can even dynamically see job recommendations by simply adding and removing skills from the filter bar to your left.
Jobscan Job Matcher is an intelligent job board that matches based on the skillsets of your resume and job descriptions instead of simple matches. The more preferences you tell Jobscan, the more relevant your job recommendations are.
---
Jobscan Learning Resources
Jobscan's Learning Center contains resources to help you on your job search, beginning to end.

It includes a search to help you find the most relevant resources in our archive of hundreds of articles on resumes, ATS and job searches tactics.
---
Get Started
Signing up for a free Jobscan account is much simpler than most other online signups; all you have to do is enter your email address and a password (adding your ZIP code is optional).
Once you're signed up, you'll be able to choose from three different membership levels. The first option is free, and offers 5 resume match rate calculations per months, 5 skill comparisons per month, and 5 keyword comparisons per month.
The second option is free for one month, and $89.95 for three months. Plus, the first month is free, so it works out to being four months for $89.95 total ($22.48/month). If you cancel within your free month, you won't be charged at all. This route offers the following benefits:
The third option offers the same benefits as the second option, but at the price of $49.95 each month. This is a great option if you're only looking to use the service on a month-to-month basis, or don't think you'll be job searching for longer than two months total.

No matter what membership option you choose, Jobscan offers 10 free scans for every friend you invite who joins Jobscan (up to 10 friends or a total of 100 free scans).
If you're starting your resume from scratch, or need to brush up on the best practices of resume writing, take a look at Jobscan's complete resume writing guide for tips.
---
Join Jobscan
Score Your Resume against any Job Description
Free Job Search Resources
Free Customized Job Matches
Free Monthly Scans
Past Scan History

---