Free Resume Templates
The best resume templates have a professional design optimized for applicant tracking systems (ATS) used by virtually all major companies. These free resume templates from Jobscan and ResumesByRecruiters are ATS-friendly and compatible with Microsoft Word.
Classic Format Resume Templates
These are the three standard resume formats: chronological, hybrid, and functional.
The chronological resume template offers a classic, no frills format. Consider this template if you work in a formal industry or want to bring attention to the impressive companies on your resume. Hybrid resume templates are versatile and the most popular format in today's job search. Functional resume templates are popular for people changing careers or masking holes in their resume. Jobscan doesn't typically recommend the functional resume format because recruiters are suspicious of them.
Executive Resume Templates
Once you reach the executive level, a greater emphasis is placed on the results your organizations have achieved and executive soft skills like leadership, innovation, and entrepreneurial drive. Technical skills aren't as important as they were earlier in your career. Fill out your executive resume template with accomplishments, measurable results, and examples of leadership.
Management Resume Templates
When it comes to writing a management-level resume, try to demonstrate a trajectory of growth along with a combination of deep industry knowledge and interpersonal skills. You need to prove that you're an expert in your field who is able to delegate tasks and lead your team.
Mid-Level Resume Templates
When you're no longer entry-level and either aren't ready for or have no interest in a management track, your resume needs to be focused on your ability to execute. A strong emphasis should be on the hard skills found in the job description. Back these skills up with context to demonstrate your level of expertise.
Recent Grad Resume Templates
When you're looking for an entry-level job right out of college, your resume is going to look a little different. Your education section is moved up above your work experience and you're expected to expand upon your college experience. Go into detail with honors, clubs, coursework, etc.
Why use a resume template?
Whether you're creating a resume for the first time or are a seasoned pro, resume templates remove the guesswork from resume writing. They help answer common questions asked by job seekers, such as:
A good resume template will answer these questions and allow you to input your information into the appropriate spaces. For job seekers that need a helping hand, resume templates offer an affordable alternative to paid resume builder tools or professional resume writers.
Types of resume templates
At its core, a resume is a simple document. As a bare minimum, any resume template should contain these three sections:
Contact Information: Name, phone number, city, state, zipcode, LinkedIn URL
Work Experience: Company name; company city and state; job title; start and end dates (months and years); description of skills used, responsibilities, and accomplishments
Education: Degree; graduation year; institution name; institution city and state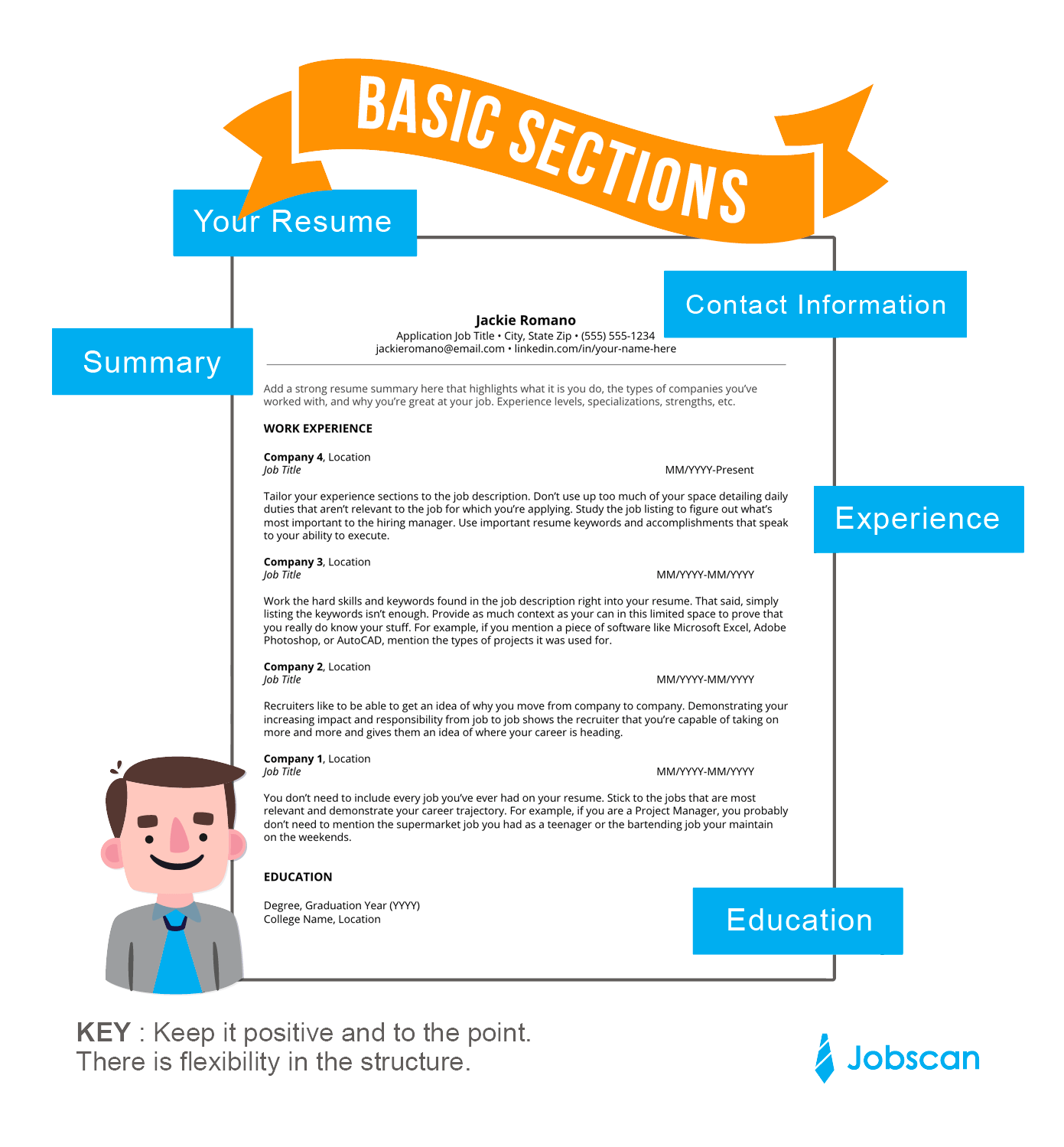 There are a number of other sections that could contribute to a great resume template. Here's a rundown of some different resume types and styles to consider when browsing templates.
Resume Formats
One of the first decisions you need to make when choosing a resume template is which format is best for you. There are three main resume formats: chronological, functional, and hybrid (also known as combination). Each format showcases your work history and skills in a different way.
Read up on resume formats to learn which one will work best for your job search. That said, hybrid resumes are versatile and gaining popularity across industries.
Graphic Resume Templates
Graphic resume templates are heavily designed with customized resume sections, fonts, colors, infographics and/or images. These creative resume templates can help you stand out, but might also do more harm than good.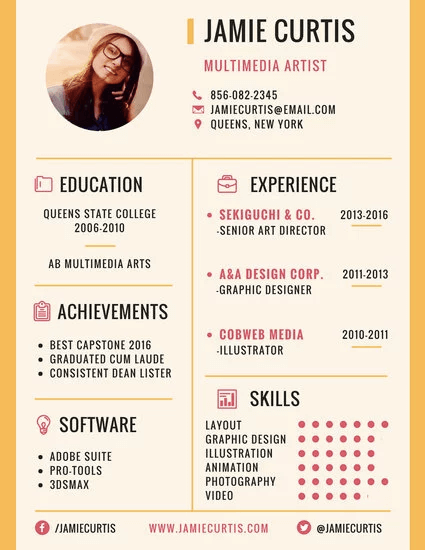 Canva Multimedia Artist Resume Template
Graphic resume templates aren't for everyone. Job seekers in creative fields will benefit the most from these creative resume templates. For example, a graphic designer should not only consider using a graphic resume template, but should probably design their own from scratch as a showcase of their talent.
Graphic resume templates are less effective for job seekers who aren't in creative fields. Some downsides of graphic resume templates include:
Most job seekers are better off with a formal, straight-forward resume. However, if you'd still like to go bold, here are a few top sources of graphic resume templates:
Minimalist Resume Templates
Minimalist resume templates focus on a clean look and maximum readability to bring a focus to your resume's content. Minimalist resume templates don't have to be bland or boring. Many are elegant, modern, and professional.

Minimalist template for sale on Etsy
Minimalist resume templates leave lots of room to flesh out your resume experience section, are inherently easy to read, and are more likely to work well with the applicant tracking systems used by most large companies.
Sources for great minimalist templates:
ATS-Friendly Resume Templates
If you're uploading your resume into an online form as part of your job application, it is critical for your resume template to be compatible with applicant tracking systems (ATS). An expertly written resume complete with a sleek design and optimized resume keywords could still fall short if the formatting isn't ATS compliant.
When you upload your resume, ATS parse out the text to make it searchable for a recruiter. They may also transfer the information from our resume to a uniform digital candidate profile. Even if you're perfectly qualified for the job, your chances of getting a job interview are much lower if an ATS can't accurately parse your resume.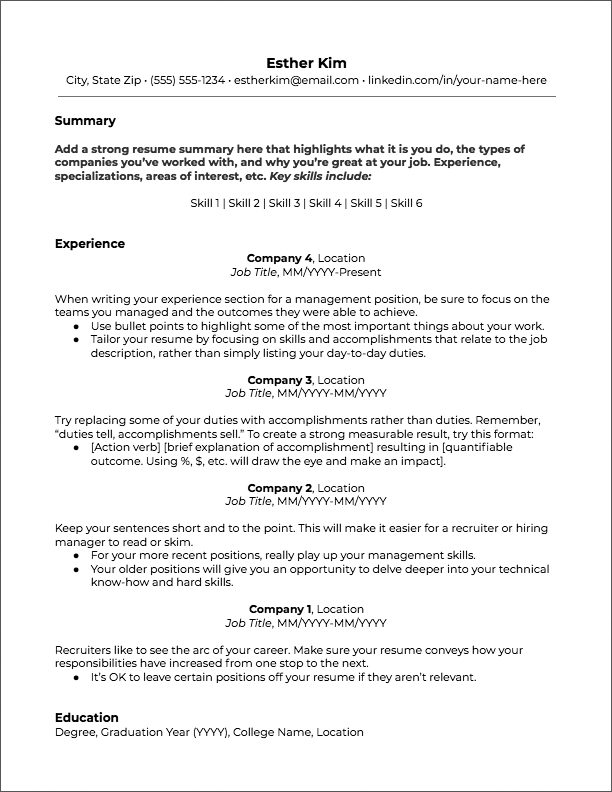 ATS-friendly management resume template from Jobscan
ATS-friendly resumes are often similar to minimalist resume templates but go a step further to account for ATS algorithms and behaviors. Among other considerations, ATS-friendly resume templates address account for the fact that:
Check out Jobscan's ATS-friendly resumes above.
Jobscan's resume optimization tool helps you see if your resume template is ATS compliant.

The wrong way to use a resume template
Not Being Selective
Not just any resume template you find online will help you land a job interview.
A simple Google search for "free resume templates" brings up pages and pages of questionable options. Many templates are outdated or created by people who are not experts in the field of resume writing.
An inappropriate template can cause recruiters and hiring managers to miss your best information. If you choose the first template you find, it might not showcase your top skills and attributes. In order to know which ones are trustworthy, do your research on what makes a good resume.
Following the Template Line-by-Line
A big mistake job seekers make when using resume templates is simply copy and pasting all of their information into the appropriate sections and calling it a day. Recruiters and hiring managers look at resumes all day long and can tell when someone hasn't put much effort into their resume.
Resume templates are typically made for a general audience, so tweaking the template to better showcase your skills and experience can put you ahead of the competition. For example, removing a hobbies section if you need more room for your work history, adding a space for key certifications that don't fit in the template, or adding a skills section to better highlight your technical skills.
Resume templates are meant to be a guide to a better resume, not an unbreakable set of rules.
Not Tailoring the Resume
Hiring is expensive for companies, so they don't want to get it wrong. For mid-range employees, it costs the company about 20% of the employee's annual salary for hiring and training. Because they don't want to get it wrong, recruiters and hiring managers are more likely to respond to a resume that is carefully tailored for the specific position.
This means using the job description to focus on the skills and keywords that are most important to the job. Showing that you are results-oriented is another great way to show you are the best candidate. Including relevant measurable results and accomplishments on your resume help demonstrate that you understand what is most important to the company's success.
After you've tailored your resume information within the template, run it through Jobscan's resume optimization tool to see how well it matches the job.
The correct way to use a resume template
When adding your information to the resume template, think carefully about whether each piece of information is valuable for your specific audience or job. If it's not, don't include it.
Rather than copy and pasting your information from a previous resume or a master document into your resume, you might be successful re-typing your resume from scratch. This helps you make sure all the content you're entering into the template is thoughtful and closely aligned with the job. Throughout this whole process, keep asking, "Does this align my work history and skills with the job I want?"
How to make your own resume template
If you're comfortable with it, making your own template is a great way to create a resume that best showcases your unique skills and experience without looking like everyone else's. That said, if you aren't known for your design sense or Microsoft Word skills, you might be better off using a resume template.
Here are a few things to consider when making your own resume template:
Compare multiple templates for ideas
Include your favorite parts of each template
Tables help organize your information but aren't ATS-friendly
Make sure you're not forgetting any standard resume sections
Consider a summary statement and skills section for a modern look
Ensure that your formatting and style are consistent throughout
Be conservative with your resume fonts and only use one or two
If you're not sure how to get a look you want, search for answers on Google and YouTube rather than settling. For example, here's a video that shows how to right-align your work experience dates.
What is a resume builder?
A resume builder is an online tool that automatically creates a professional resume using the information you input. It is a quick and easy way to build a first draft of your resume. Some resume builders are created by experts in the field, providing you with the knowledge you need to build a resume from scratch. Plus, there are many downloadable options available for free. There are correct and incorrect ways to utilize resume builders, so check out our free resume builder reviews article to learn more.
Jobscan Learning Center The Jobscan Resume Learning Series
Part 1:
Resume Writing Guide
How to write a resume that recruiters will love and is optimized for modern technology
Part 2:
Resume Formats
Determining which common resume format is right for your professional experience (examples and downloads)
Part 3:

Resume Templates
Download free resume templates and learn resume template best practices for your job search
Part 4:
Resume Examples
Top resume examples and how to use them to create your own impactful resume
Join Jobscan
Score Your Resume against any Job Description
Free Job Search Resources
Free Customized Job Matches
Free Monthly Scans
Past Scan History

---