Back to Top
Resume Templates
Jobscan's Guide to everything you need to know about resumes templates to standout to recruiters and make it past ATS
---
The Benefits of Using Resume Templates
Resume templates can be very helpful if you are creating a resume for the first time, changing fields, or just trying to revamp your current resume. Templates serve as a guide or outline around which you can build your professional resume. They answer common questions job seekers have such as:
What information should I include?
How should my resume be formatted?
What information can I omit?
Answering questions like these will help you to develop only the best information for your resume, keeping it clear and concise. Being concise and relevant is one of the most important rules in resume writing. Recruiters and hiring managers will take an average of six seconds to skim your resume, so filling it with key achievements from your professional history is crucial to getting an interview.
Resume templates are an inexpensive, and often free, alternative to pricey online programs and resume writers. Hiring a resume writer can cost anywhere between $400-$1100, and while their expertise is well-worth the price, most of us can't afford that level of help. However, while resume templates are a great alternative, they can also cause problems in resume writing.
Taking the time to learn the basic sections of a resume and how to use them correctly will add a lot of value to your resume writing process. Resume templates help you break down each section and give you guidelines for formatting.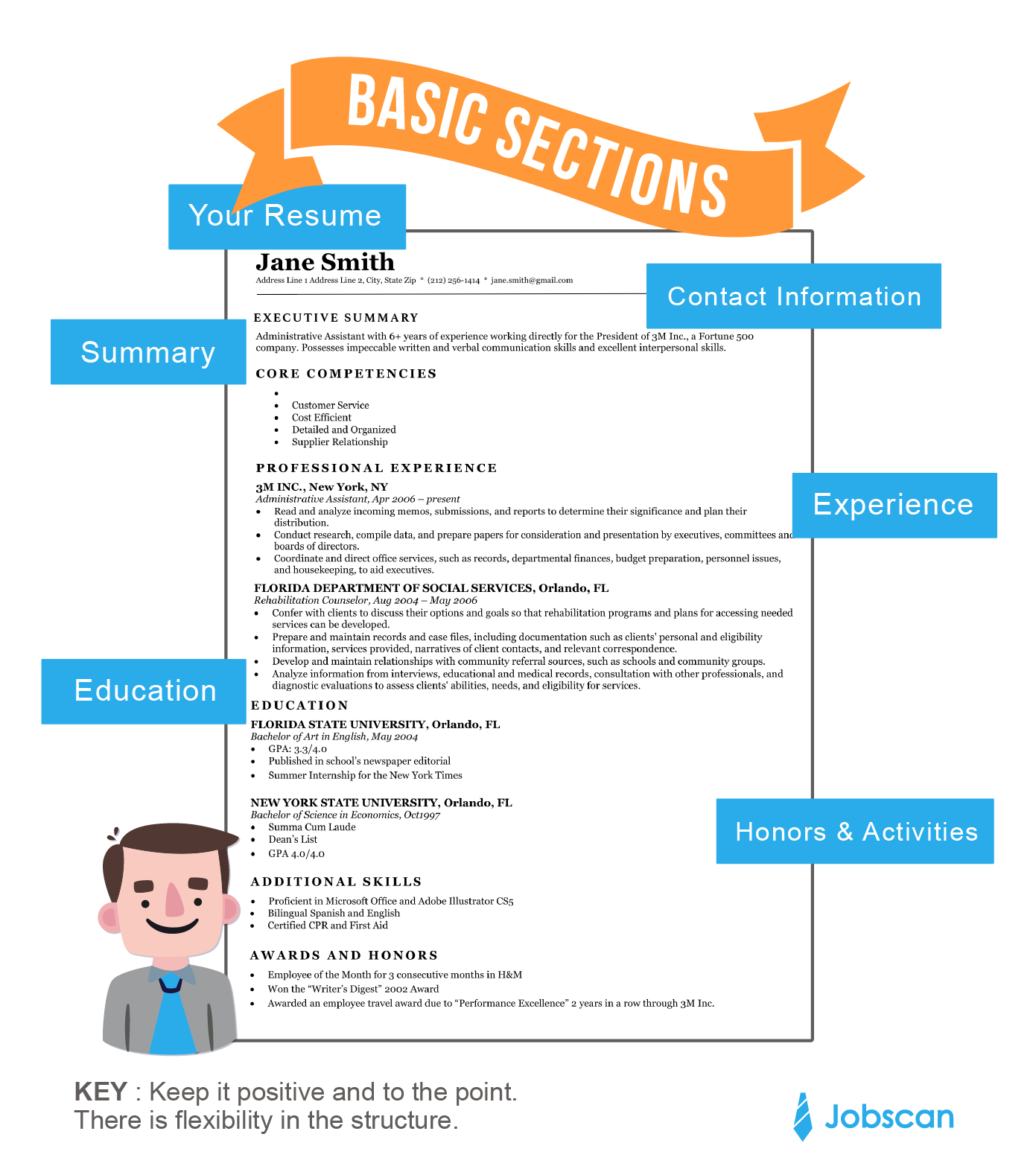 Illustration of the basic sections of a chronological resume
---
The Wrong Way to Use a Resume Template
You know how you're always hearing, "don't trust everything you see on the internet"? The same goes for online resume templates. Just because they are online, does not mean they are reliable. A simple Google search for "free resume templates" brings up pages of questionable options. Many templates are outdated or created by people who are not experts in the field of resume writing. In order to know which ones are trustworthy, do your research on what makes a good resume. Sure, it takes some extra time, but if you do it just once, you'll keep that knowledge with you into the future.
The problem with using an inappropriate template is that recruiters and hiring managers can miss the best information about you. If you choose the first one you find, it might be one that doesn't showcase your best skills and attributes. Choosing the wrong template could actually hurt your chances of getting an interview.
A major mistake job seekers make when using resume templates is copy and pasting all of their information and calling it a day. Recruiters and hiring managers look at resumes all day long, and therefore, they can tell when someone has not put too much effort into their resume. When you simply copy and paste your information into the template, there are often formatting mistakes, typos, or font differences throughout. These mistakes will make you appear lazy, and you definitely will not get an interview that way. Plus, recruiters and hiring managers want to see resumes that are targeted to their specific position. Hiring is expensive for companies, so they don't want to get it wrong. For mid-range employees, it costs the company about 20% of the employee's annual salary for hiring and training. Since templates are not typically targeted, putting in the extra effort will work in your favor. Remember, resume templates should not be thought of as a shortcut or a way around building a proper resume, they should be thought of as a tool for creating the best possible resume.
Similar to copy and pasting information is mindlessly plugging in information based on the template. Even a good template is only a suggestion. If you go through it without thinking about your personal best qualities, you can yourself into trouble. For example, if a resume template has space for three past job experiences, but you have only had two jobs in your field, don't list your college babysitting job just to make it look complete.
Another major mistake is copy/pasting an already poor resume into a seemingly perfect resume template. One of the biggest errors recruiters see is the lack of quantitative results in resumes. You should think in a "results-oriented" way about your accomplishments. A hiring manager is more interested in results than tasks and skills because you could have performed a task/skill poorly for all they know. So just copy/pasting your current resume into the perfect template will still do more damage than good.
Templates are meant to be molded to fit your experiences and needs. The image below shows a resume that could easily have been made from a poor resume template. Even though it might look impressive at first glance, it is full of errors that hiring managers would notice immediately.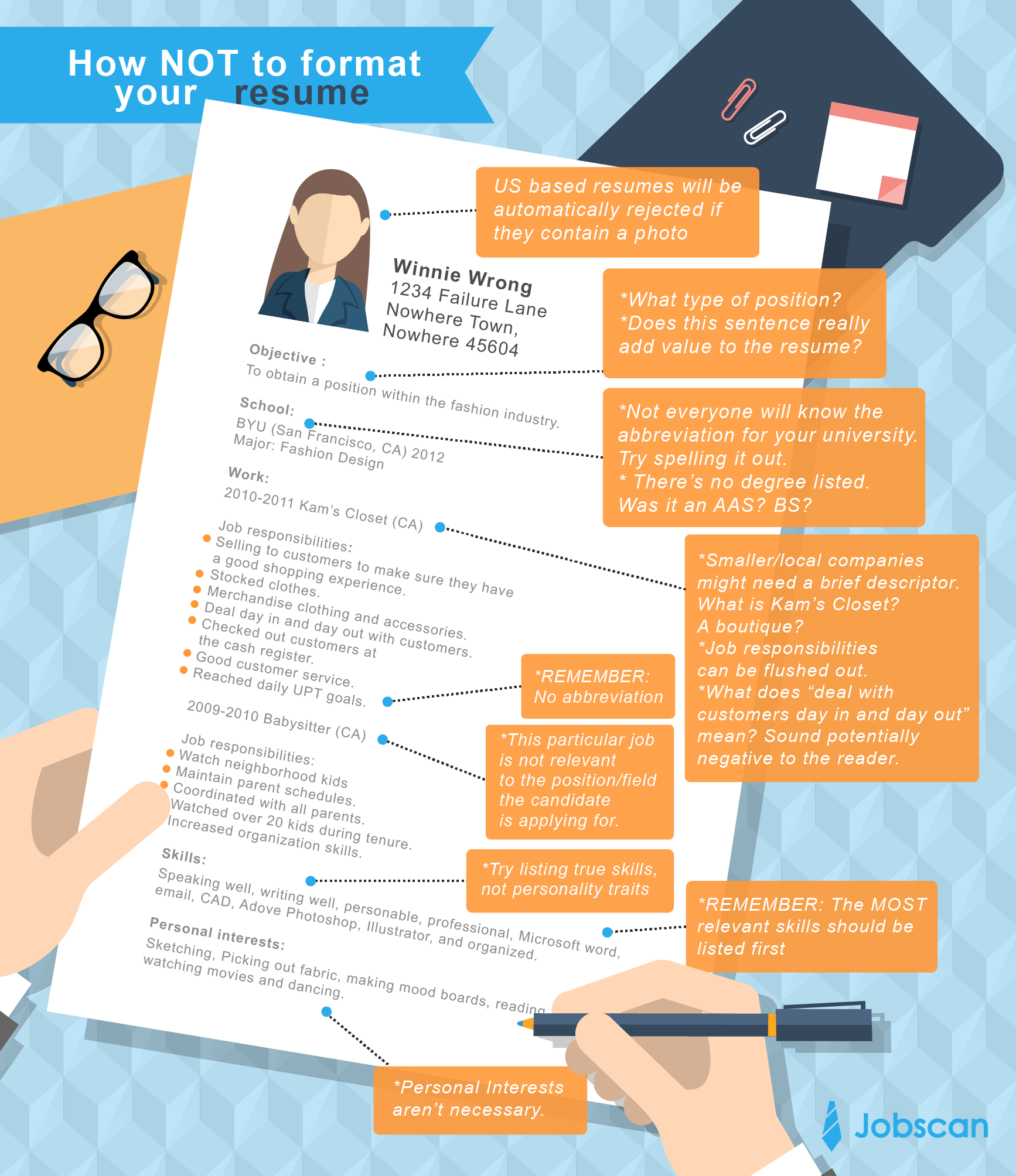 Don't be a Winnie Wrong
---
The Correct Way to Use a Resume Template
Before choosing a resume template, you should read up on resume formats. There are three different kinds of resume formats: chronological, functional and hybrid. Each format showcases different parts of your work history and skills You'll want to choose a template based on the format that represents your work experience in the best way possible.
After determining the best resume format for you, the next step is to compare different resume templates within that format. So, if you choose the chronological resume format, which is the most popular, you should compare various examples of chronological resume templates. Think about your work experience and skills while browsing templates. You can even use an old resume, or write down the points you think are most important to include as a baseline for choosing a template. Once you find one that looks good to you both visually and functionally, download it. If you find more than one, download both. You can combine them later.
Next, start adding your information to the template, but do not copy and paste. As you're inputting your experience, think carefully about whether each piece of information is valuable for your specific audience or job or not. If it's not, don't include it. For some people, especially if you chose two templates, it is best to pull up a blank word document beside your chosen template, and type the new resume from scratch. Don't forget, templates are a guide, not a rulebook. Typing from scratch based the template is a good way to make sure everything you input is thoughtful. Throughout this whole process, keep asking yourself, "does this represent my work history in its best light?"
The example below is an example of a chronological resume template. The blue headings show the framework of a good chronological resume. The information below those headings are examples of how to fill in those blocks. A framework is exactly how you should think of a resume template.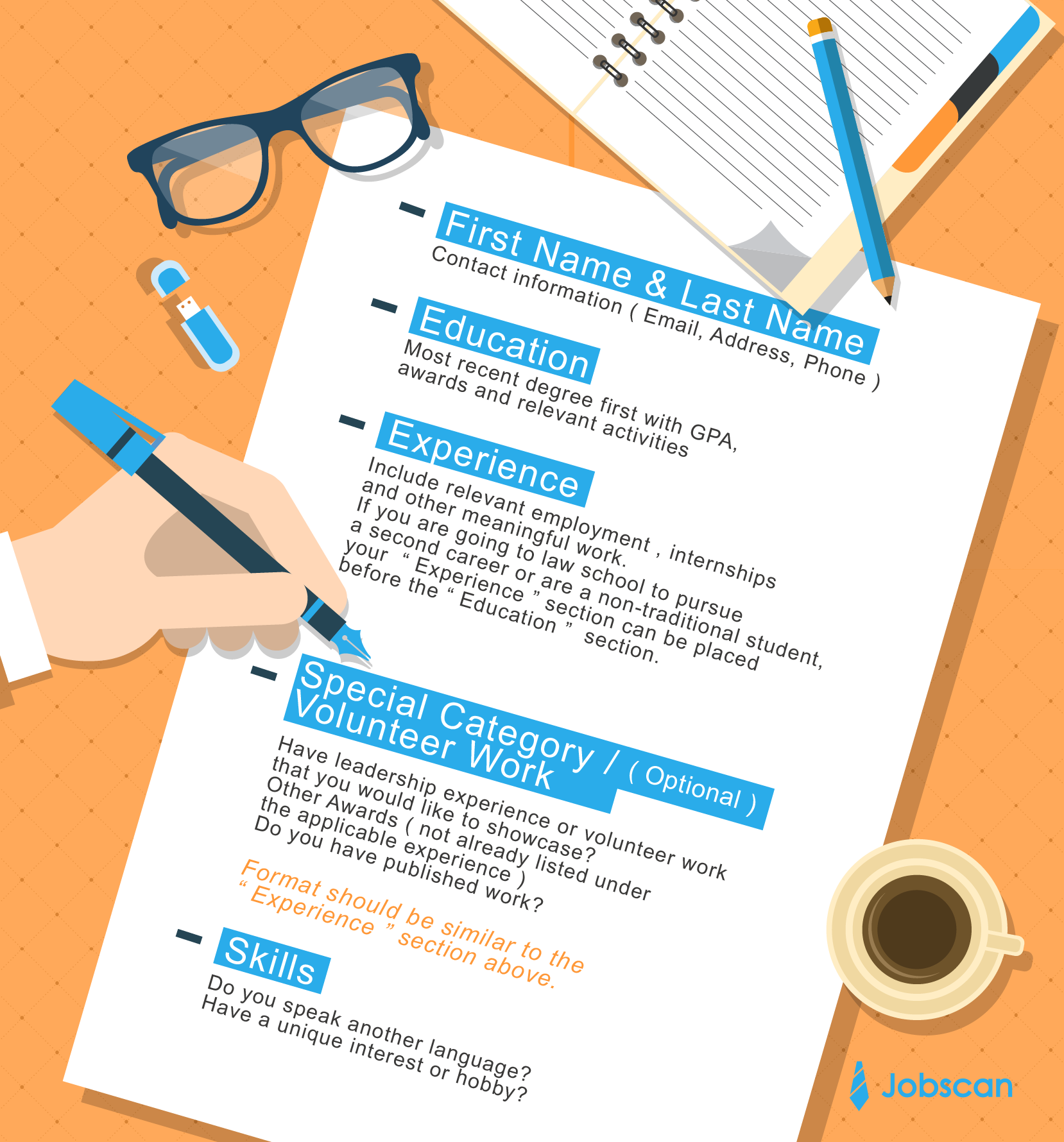 ---
How to Make a Resume Template Your Own
Making your resume your own is very important when using a resume template. You want your resume to be clean and organized, but you don't want it to look like every other cookie cutter resume. It should show the recruiter or hiring manager the top reasons why you are the best candidate for the position, so you don't want it to have the same information as every other resume they see that day.
Make your resume your own by following these steps:
Compare multiple templates
Include your favorite parts of each template
Ask friends or hiring managers friends their opinions
Add a summary statement (objective statements are outdated)
Leave out "interests" unless they are very impressive (i.e. Chess Champion)
Another important way to make your resume your own is to use keywords (skills). Keywords are important for two reasons. The first reason is that it is an easy way to list skills that otherwise wouldn't have a place in your resume. The second reason is for getting through applicant tracking systems (ATS) . Applicant tracking systems are a type of software used by recruiters and hiring managers to find the top contenders for a job position. It searches through thousands of submitted applications and ranks them based on keywords. So, if you don't have the right keywords in your resume, you won't get an interview.
Jobscan has developed a tool that mimics ATS to give job seekers the knowledge they need to make it through applicant tracking systems and earn an interview. By uploading the job posting and your resume to Jobscan, you'll find out what improvements you need to make to get through ATS. Keywords are a big part of those improvements.
Design is another way you can make your resume your own. However, you should only get creative with the visual design of your resume if you are in a creative field. Otherwise, it could take away from the information on your resume. Also, keep in mind that images cannot be parsed by ATS and fancy fonts will be defaulted to a standard font like Times New Roman or Arial. Whatever design changes you decide to make, the number one rule is to not let them take away from the goal of your resume, which is showing the recruiter your skills and accomplishments.
---
What is a Resume Builder?
A resume builder is an online tool that automatically creates a professional resume using the information you input. It is a quick and easy way to build a first draft of your resume. Some resume builders are created by experts in the field, providing you with the knowledge you need to build a resume from scratch. Plus, there are many downloadable options available for free.
---
Debra Wheatman of careersdonewrite.com weighed in with her expert adivce on the contents of this page.
---
Free Resume Template Downloads
---
Jobscan Learning Center The Jobscan Resume Learning Series
Part 3:

Resume Templates
Jobscan's Guide to Resume Templates
Part 4:
Resume Builders
Jobscan's Guide to Resume Builders, What is a resume builder and how should you use it?
Part 5:
Resume Examples
Jobscan's Guide to Resume Examples, How to Use Them Effectively and Which One is Right For You
Join Jobscan
Score Your Resume against any Job Description
Free Job Search Resources
Free Customized Job Matches
Free Monthly Scans
Past Scan History

---