Back to Top
Jobscan's Guide to Resume Formats
Everything you need to know about resumes formats to standout to recruiters and make it past ATS
---
Why Your Resume Format is Important
The format of your resume is just as important as the information you put in it. Resume formats can determine the way a recruiter or hiring manager perceives you, and more importantly how the ATS parses each section included in your resume. Your resume format is the first quick impression of you both personally and professionally.
Formats are also important in capturing the recruiter or hiring manager's attention. They most likely only have time to skim your resume, so your goal is to put the most important information about yourself in places that are easily seen (aka at the top). Don't hide accomplishments and relevant experience too deep within your resume.
Different resume formats highlight different aspects of your professional skills and accomplishments. Once you get an interview, you can go into more detail about yourself, but your resume should showcase the very best things. So, choosing the correct format, based on your professional history, can make a big impact on recruiters very quickly.
Types of Resume Formats
There are three main types of resume formats: chronological, functional and hybrid (also called combination). Each resume format has a specific purpose and highlights different parts of the candidate's professional history.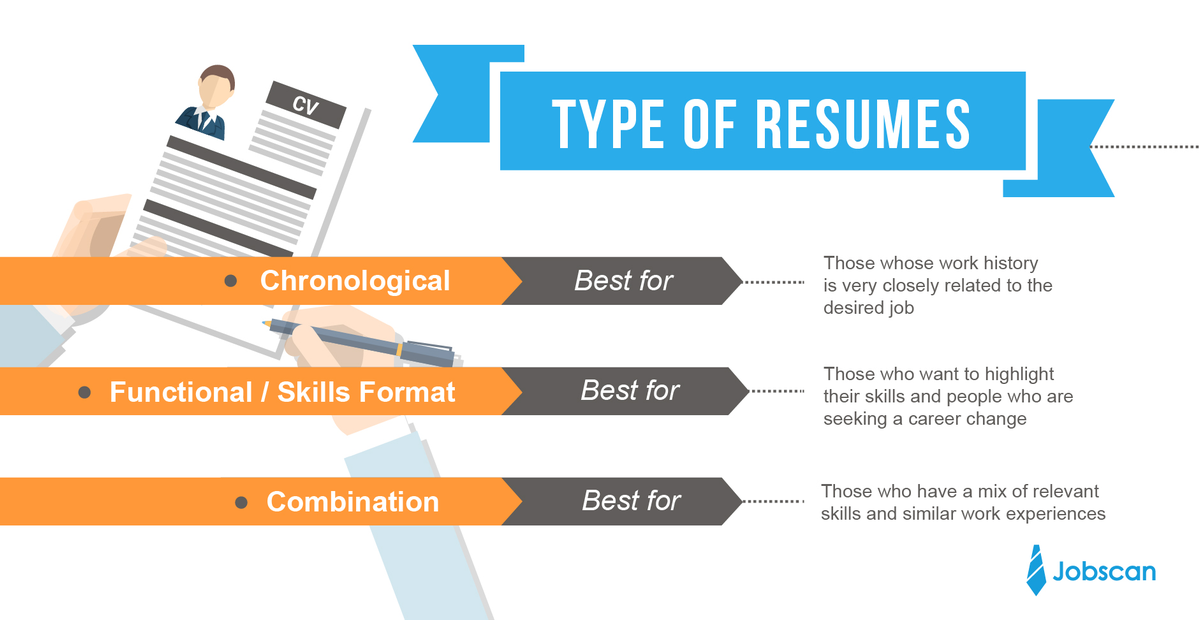 Chronological
The chronological resume format is the most traditional format. It is also widely preferred by recruiters and hiring managers because it lays out the job seeker's experience in a clear, orderly manner. While it is called "chronological" this format lists experience and education in a reverse-chronological order, with the most recent first. For example, if you have your master's degree, it should be listed above your bachelor's degree since it happened most recently. This reverse-chronological order makes it easy for the potential employer to see your highest level of achievements and most recent job titles first.
The chronological resume format accommodates most industries because it has a traditional, and often times basic layout. It puts a heavy focus on dates and growth in your career. More than the other types of resume formats, this format holds the job seeker's employment history in high regard. It is also the most straight-forward, and therefore, the easiest for the recruiter or hiring manager to digest. They will rarely take the time to hunt through a resume to find the information they are looking for if it's not readily visible.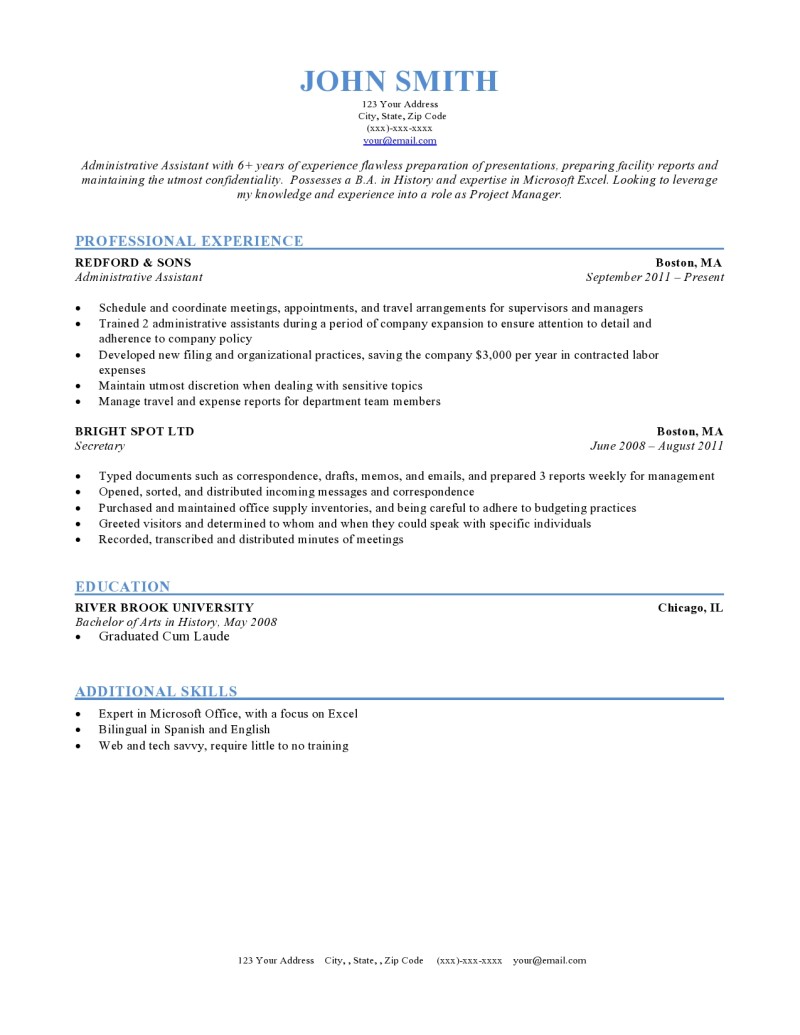 Resume template and content from ResumeGenius.



How to Set Up the Chronological Resume
Contact Information: It is very important to include all of your contact information at the top of your resume. Not only will potential employers use it to contact you for an interview, but also for ATS, since recruiters can search applicants by their location. Include your email address (appropriate names only!), home address including city, state, and zip code, and your phone number.
Summary Statement: A summary statement is not required on a resume, but it can be useful. A summary statement is different than an objective statement in that it describes your value in the job market based on your skills and accomplishments. An objective statement describes what you hope to learn and achieve. Listing your objective is only recommended in combination with your summary statement if you are transitioning into a new field. A summary statement is your opportunity to explain your strongest accomplishments and assets right at the top of our resume. Think of the summary statement as your resume's most valuable visual real estate. Here are a few examples of summary statements:


Experienced sales professional with 5 years experience. Proven skills of exceeding quarterly sales goals for the past 3 years. Also skilled in marketing and negotiation. I excel during the most stressful quarters and easily manage several different clients at once.

Marketing manager for 5 years, with a cumulative 15 years experience in the industry. My recent focus is in Email Marketing, but am highly adept at managing analytics and paid placements. Built the entire email team from scratch with only positive growth.

IT professional with a particular focus on user support. I've proven to resolve technical issues quickly and effectively in my previous position as an after-hours support technician.

When writing a summary statement, put yourself in the hiring manager's position. Ask yourself, if I were them, what would I be looking for in a candidate? This summary statement can be the same in your LinkedIn profile, and having them match is a professional way to maintain your personal brand.

Work Experience: List your work experience in reverse-chronological order, with your most recent job first. If you've had promotions, make them clear in this section. For more information about how to format promotions, click here.




Education: Again, list your education in reverse-chronological order. It is not necessary to include your high school degree if you have an associate's degree or higher. Recruiters will assume you graduated from high school if you have higher degrees. Don't include your resume if it is less than 3.5 on a 4.0 scale. It also isn't necessary to include it if you have five or more years experience.
Skills: Use this category as a way to conquer all major keywords from the job posting. Using keywords is the most important factor in getting through ATS. The "Skills" section is your opportunity to include all relevant keywords. Remember to only use hard skills rather than soft skills. Examples of hard skills include "Wordpress", "Javascript", or "supply chain management". Hard skills are learned skill sets, while soft skills (i.e. "hardworking" and "people skills") are personality traits. Of course, soft skills are important, but recruiters have no way of knowing whether they are true before meeting you. The interview is a great time to demonstrate soft skills.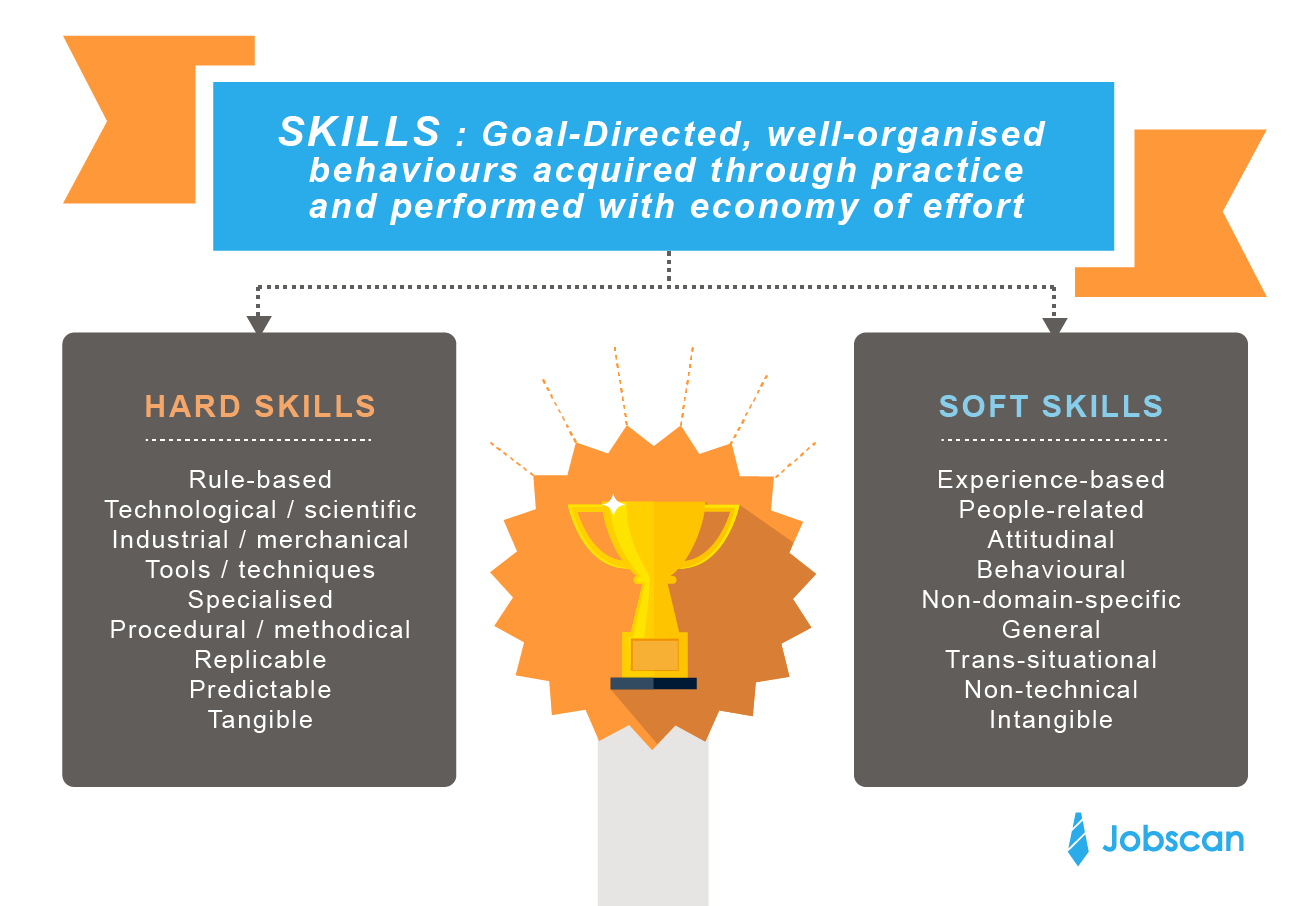 Functional
The functional resume format is essentially the exact opposite of the chronological format. Rather than focusing on work history, this format focuses on the job seeker's skills and accomplishments. It is not nearly as popular as the chronological resume format. If you have a traditional career path, the only reason you should consider the functional resume is if you have ten or more years of work experience. However, even then, recruiters may see the functional resume and assume you are not as qualified.
The functional resume works best for the non-traditional career path because it caters to those who either have been out of the work force for a while or who have changed jobs frequently. It tries to cover the gaps in employment and highlights the job seeker's best professional attributes as they pertain to the job in question.
While the functional resume is not a bad option, it needs to be done really well to make the right impact. The job seeker's skills should be highly impressive and greatly outweigh their work experience. It is also very important to include dates in the functional resume so your history is clear to the recruiter and it doesn't seem like you're intentionally hiding anything.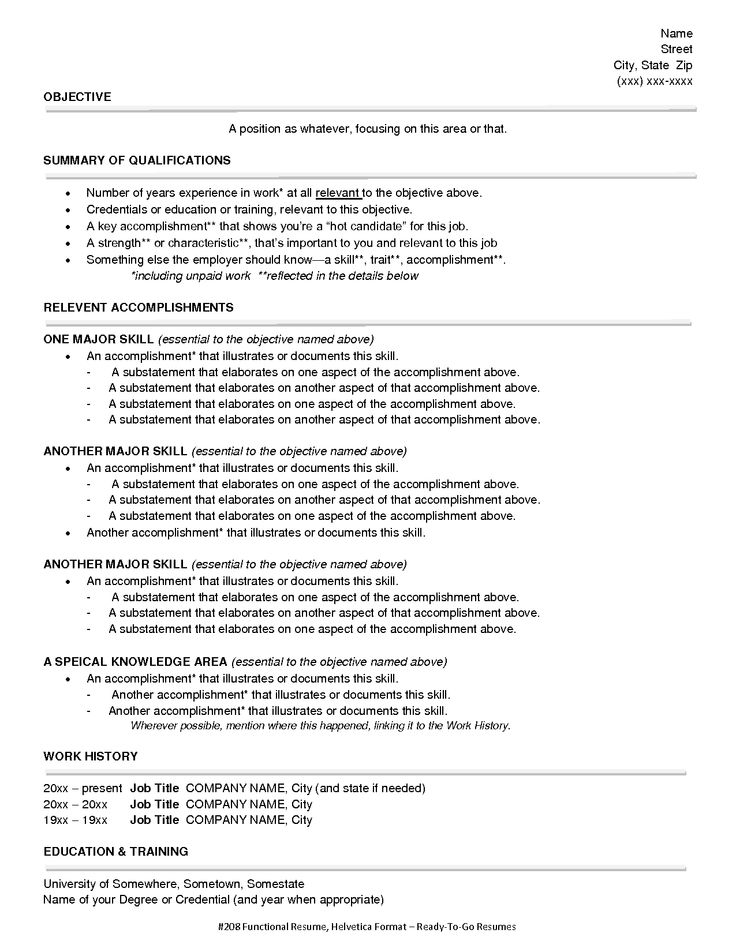 How to Set Up the Functional Resume
Contact information: This part is the same regardless of which resume format you choose. As with the chronological format, be sure to include all of your contact information as well as location.
Qualifications: This is where the big difference occurs between the chronological and functional resume formats. The "Qualifications" section is the highlight of your resume, as the "Work Experience" is in a chronological resume. Since the functional resume takes the focus off your work experience, your qualifications should blow your work experience out of the water. Ask yourself, "what life experiences have made me especially qualified for this job?", and "what projects have I worked on that represent my abilities best?"




Skills: Skills are different than qualifications. Skills are tools you have developed and perfected over the years, while qualifications are projects, events or certifications. This section is the same in all resume formats. Remember to use this section as a hub for keywords found in the job posting. Regardless of which format you choose, keywords will always help improve your chances of making it through ATS.




Professional Experience: Putting this section toward the bottom makes any gaps in employment less noticeable, but you should not try to hide them any further than that. Be sure to include dates and to be honest about when a job started and ended. Employers can easily verify this information when they check your references later. The goal is to put your best foot forward, not to lie.
Education: This section can be swapped with "Professional Experience", especially for new graduates. Like with the chronological resume, list your education in reverse-chronological order.
Hybrid (Combination)
The third type of resume format is called the hybrid or combination format. It is the combination of the chronological and functional resumes. The chronological style is maintained, but this format highlights skills and accomplishments just as much as it highlights professional experience.
The hybrid format takes some of the focus off of employment gaps without hiding them too much. It is a way to showcase your skills while also showcasing your professional achievements.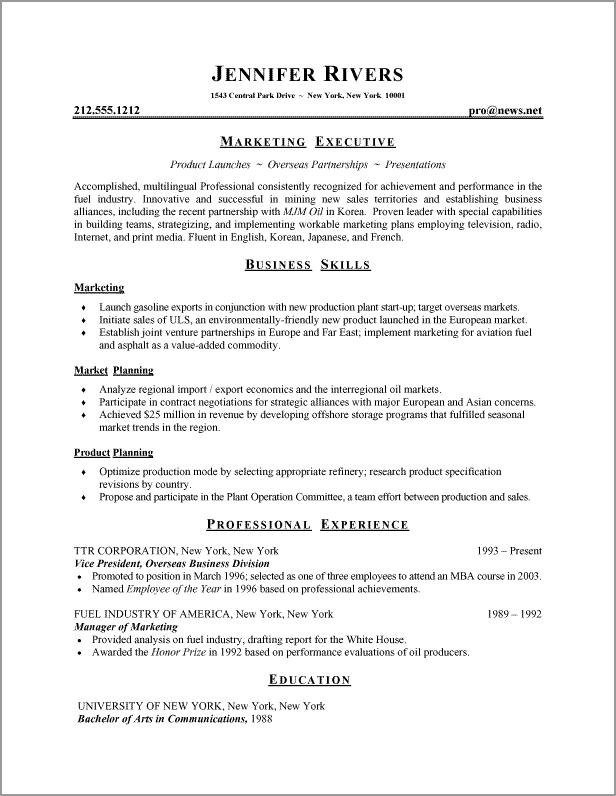 How to Setup the Hybrid Resume
Contact information: This is no different than the other resume formats. Include an appropriate email address, full mailing address (including zip code) and phone number. It's also great to include LinkedIn vanity url in this section, so your profile is easily found online.
Summary Statement or Qualifications: This decision makes your resume more like either the chronological or the functional resume format. A summary statement focuses more on your work experience and professional accomplishments, while qualifications focus on certifications and professional skills.
Skills: As with the other resume formats, focus this section on getting your resume through ATS by including relevant keywords. Compare your resume with the job posting to make sure you are including the correct keywords. Use Jobscan to be sure you don't miss any.
Professional Experience: Include dates of employment as well as promotion information (see chronological format above for an example). Remember to list your work experience in reverse-chronological order.
Education: Again, list your education in reverse-chronological order with the most recent degree first. If you have a degree higher than high school, it is not necessary to include your high school degree.
---
How to Choose a Resume Format
Choosing the right resume format for you is very important. It determines how the recruiter or hiring manager will perceive you, and which professional attributes you will highlight. In order to choose the correct format, you should evaluate your career history and goals for the future of your career.
The chronological format is best for almost everyone who is on a traditional career path. If you have been in the same industry for most of your career and you are applying for another job within that industry, this is most likely the best option. This format is best to use if you have no major gaps in employment (six months or more is a good rule of thumb) and your work history shows growth or promotions.
You should use the functional resume format if you are a new graduate or are re-entering the workforce after taking time off. It is best for those with gaps in employment because it showcases your skills rather than employment history. It is also great if you are changing career paths since it highlights transferrable skills.
Use the hybrid resume format if you have decent work experience but you have some notable gaps in employment. If you are a person whose skills majorly outweigh your work history, like a veteran entering the workforce, the hybrid resume is a great option. It helps diminish employment gaps and lack of work experience without hiding them.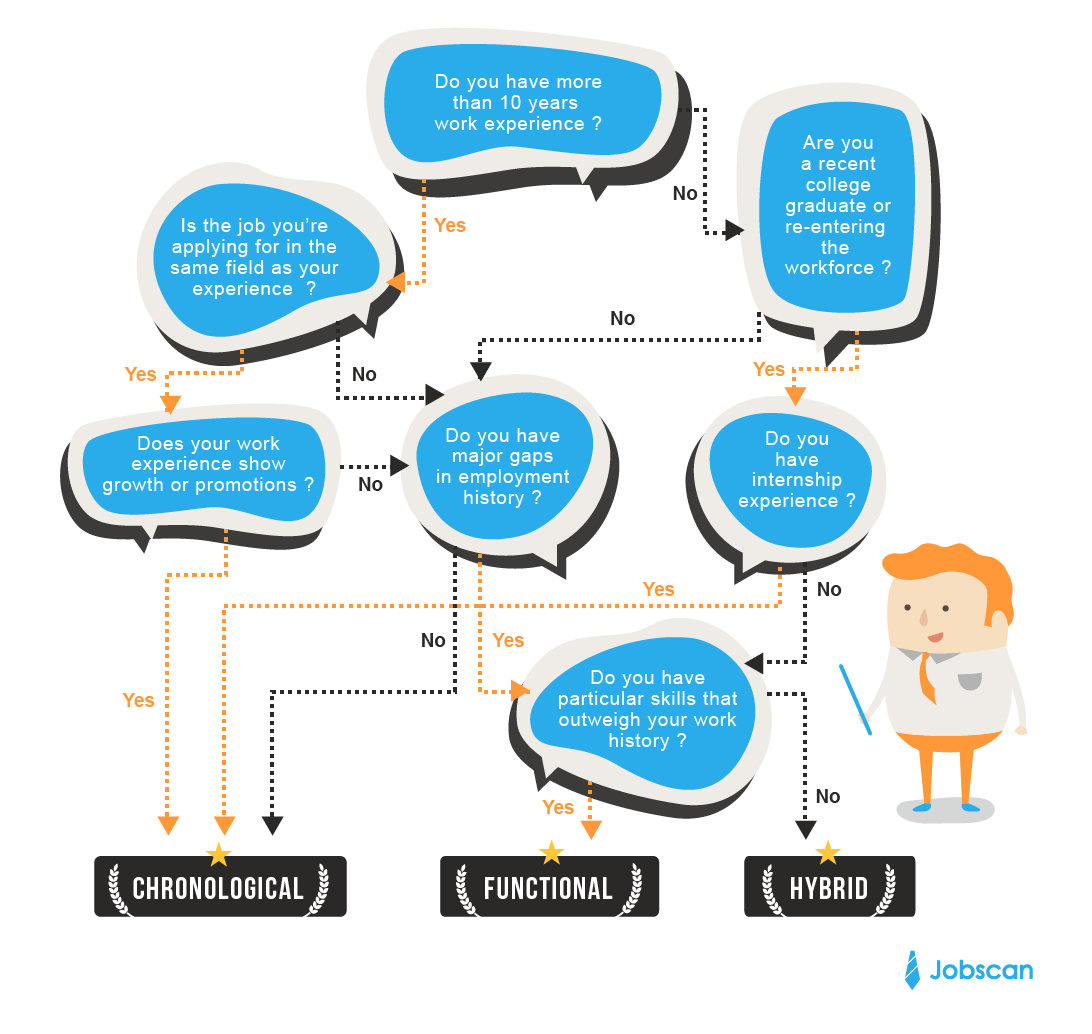 ---
Resume Formats vs. Applicant Tracking Systems
Applicant tracking systems are a tool used by most companies to filter through and rank job applicants. The Internet makes applying for jobs incredibly easy for job seekers, which means employers have become overwhelmed with applications. Applicant tracking systems (ATS) are the unfortunate solution to their problem.
The majority of ATS works by compiling all of the resumes from a specific job posting and allowing the recruiter or hiring manager to search by keyword and see a list of the top-ranking candidates. Choosing and highlighting the correct job description keywords are absolutely essential to making it through ATS.
Also important resume format points for ATS:
Have a zip code or location - Recruiters often search for local candidates by zip code or city. If you don't list your location then you won't be found.
Work history formatting: We found that some ATS parses employment history best when it's in the "Company, title, date" order.
File types: We found the latest word doc files .docx to work best.
Once you've chosen a resume format and filled out your permanent information, it is crucial to customize your resume to each job for which you apply. Jobscan compares your resume to the job posting in a system much like ATS. It then gives you a match rating and tells you what keywords you need to include to raise that rating. You can even submit your chronological and functional resumes into Jobscan and see which one gives you a higher match rate, try a scan with your resume now:
You should not consider your resume complete until it is fully optimized for each specific job. This process means you will spend more time on each job application, but the time spent will be very valuable to your job search. With the correct resume format, you can apply for fewer jobs but have a better chance of getting an interview.

---
Free Resume Formatting Downloads
---
Jobscan Learning Center The Jobscan Resume Learning Series
Part 2:

Resume Formats
Jobscan's Guide to Resume Formats
Part 4:
Resume Builders
Jobscan's Guide to Resume Builders, What is a resume builder and how should you use it?
Part 5:
Resume Examples
Jobscan's Guide to Resume Examples, How to Use Them Effectively and Which One is Right For You
Join Jobscan
Score Your Resume against any Job Description
Free Job Search Resources
Free Customized Job Matches
Free Monthly Scans
Past Scan History

---