Does this sound like you? You're casually browsing different opportunities because your current position isn't a great fit. Or, you're occasionally browsing job boards, but you're not actively sending out application packages. Even if you're not in full job-hunting mode, it sounds like you're almost there and could use some resume help. Here are six steps for a complete resume makeover for when you're ready to enter the job hunt in full force.
1. Remember that font and size matter
A quick way to do a resume makeover is by fixing your resume fonts and sizes. One of our top resume tips: your resume should be easy to read. Your best bet is limiting your resume to two fonts, specifically basic fonts like Times New Roman to make it easier for applicant tracking systems (ATS) to read. Applicant tracking systems (ATS) are software used by recruiters and hiring managers to find the candidates whose resumes best fit the job. Further, get rid of colors and make sure that you're not bolding or italicizing too many elements of your resume – this ultimately de-emphasizes everything in the document.
2. Give it a trim
Even if you're a seasoned professional, most recruiters will not turn to the second page of your resume – let alone your third and fourth. So, shorten your resume to one page. The easiest way to do this is by limiting descriptions to 3 to 4 bullet points per job. Another reason one-page resumes become two is extra spacing. See if you have a format that takes up too much space by your titles or resume section headers. If you do, consider removing that space or choosing a different format.
3. Consider a formatting change
…which brings us to our next point: resume format. If your format is too bulky or too old-fashioned, consider choosing a different format to begin your resume makeover. There's no better way to breathe new life into your document than by changing up the format to make it easier to read. Here are some resume templates to get you started.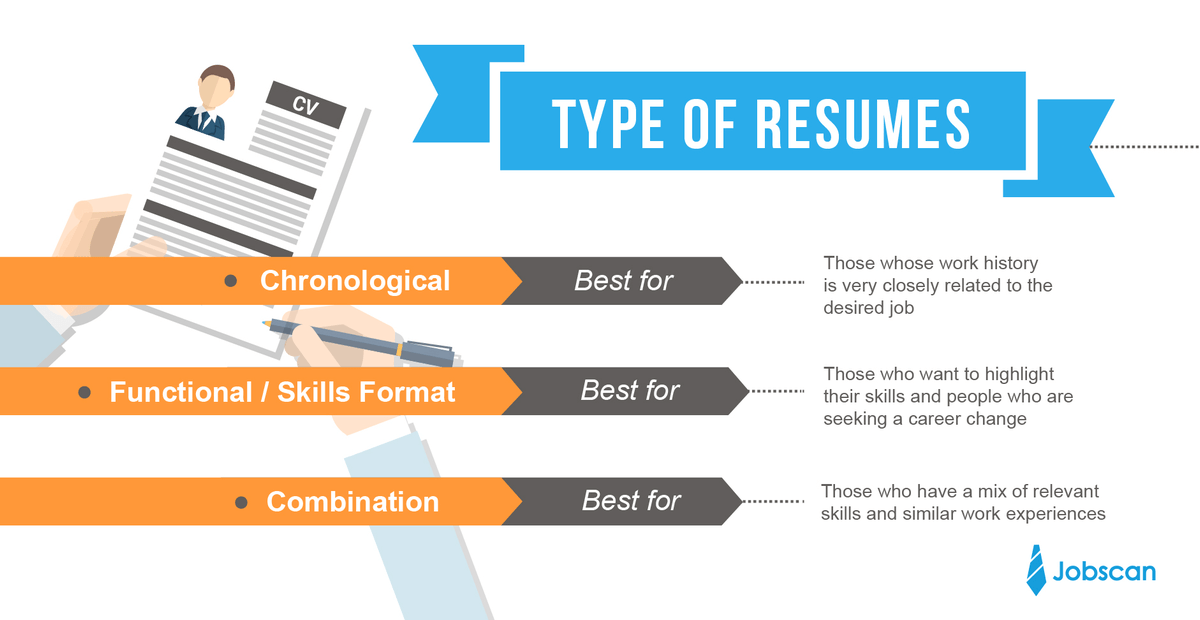 4. Add measurable results
Instead of listing the requirements of your previous positions, any resume makeover should include an addition of measurable results. Measurable results are just that: metrics like numbers and percentages that describe exactly how you succeeded in these positions. If you're looking for advice on how to incorporate more measurable results into your resume, Jobscan checks to make sure you've included the recommended minimum of five measurable results on your resume.
5. Add keywords and hard skills to your resume
The way ATS scans applicants? By matching desired characteristics to a candidate's resume skills. Optimize your resume by adding keywords that match those in the job posting. Using a job posting and your current resume, Jobscan will suggest hard skills you can add to your resume. Once you're ready to apply for jobs, the resume keywords you've included will already be more relevant to a given position.
6. Ditch the objective statement
An objective statement says more about what you want, rather than what you can offer to the employer. If an employer only has six seconds to read about you, make those seconds count by including a summary statement instead. A summary statement demonstrates what you can do for the employer. In it, you talk about your most persuasive strengths, your skills, and your work history.
Spending a few minutes a day rebuilding your resume can make you feel more prepared and confident when you begin job hunting. With the stress of resume writing off your plate, you'll have more time to search for your ideal position.
Click to rate this article