Most resume tip resources are primarily made up of common sense and tried-and-true methods, but there are a few pieces of advice out there that could hurt more than they help. Use caution when it comes to these 5 resume tips:
Bad Resume Tip 1: Hide gaps or short-term gigs in your resume by removing exact dates from your experience
Some people might advise to cover up gaps in your experience or short-lived jobs by reformatting the dates on your resume. For example, a January-to-September gap like this:
WXYZ Company, September 2017-Present
ABCD Company, March 2015-January 2017
Becomes:
WXYZ Company, 2017-Present
ABCD Company, 2015-2017
The gap magically disappears. Similarly, for a single short-term position, "October 2016-January 2017" becomes "2016-2017."
Alternatively, some advise to only list the duration of employment (e.g. Microsoft – 4 years, 2 months) to hide gaps or protect against age discrimination.
Why it seems like a good idea: Recruiters could see a gap in your resume or a short-lived job as a major red flag. Instead of hearing you out, they could opt to move on to other candidates. By disguising these gaps and bumps in the road with formatting tricks, you might fool the recruiter and buy enough time to get them hooked on your skillset.
Why it isn't: One, a recruiter will eventually catch on and dock you for being sneaky. Two, the applicant tracking system (ATS) that parses your resume into a searchable candidate profile could fail to make sense of your formatting, creating even bigger problems.
The popular ATS iCIMS, for example, defaults year-only dates to January 1st, so the job you labeled "2017-2017" becomes "January 1, 2017-January 1, 2017." The job you worked between November 2016 and December 2017 but labeled as "2016-2017" becomes "January 1, 2016-January 1, 2017."
This could turn your work history into a puzzle the recruiter doesn't have time to piece together. It could also come back to bite you if there are any automated filters enabled that calculate and rate you based on experience levels.
Even worse, the year-only format could cause an ATS to fail to recognize the experience altogether, excluding it from search or ranking algorithms, especially if it's in the "4 years, 2 months" format.
What you should do instead: Be honest. Masking a gap or job-hopping concern could, in theory, help get your foot in the door, but recruiters and hiring managers will uncover the truth at some point in the hiring process. They won't be happy to learn about a potential problem after they've already invested the time to meet you. Instead, use conventional formatting and explain your gaps as honestly as you can in your cover letter. Be prepared to talk about it if you make it to an interview.
Remove short-term jobs from your resume that aren't strengthening your candidacy, or label short-term jobs with "(Temporary)," "(Seasonal)," "(Contract)," "(Freelance)" etc.
Bad Resume Tip 2: Use a Functional Resume
Along the same lines, the functional resume format is a popular option among career changers and people with gaps in their resume. This format designates two-thirds of the page to accomplishments and transferable skills before briefly listing the actual work history at the bottom.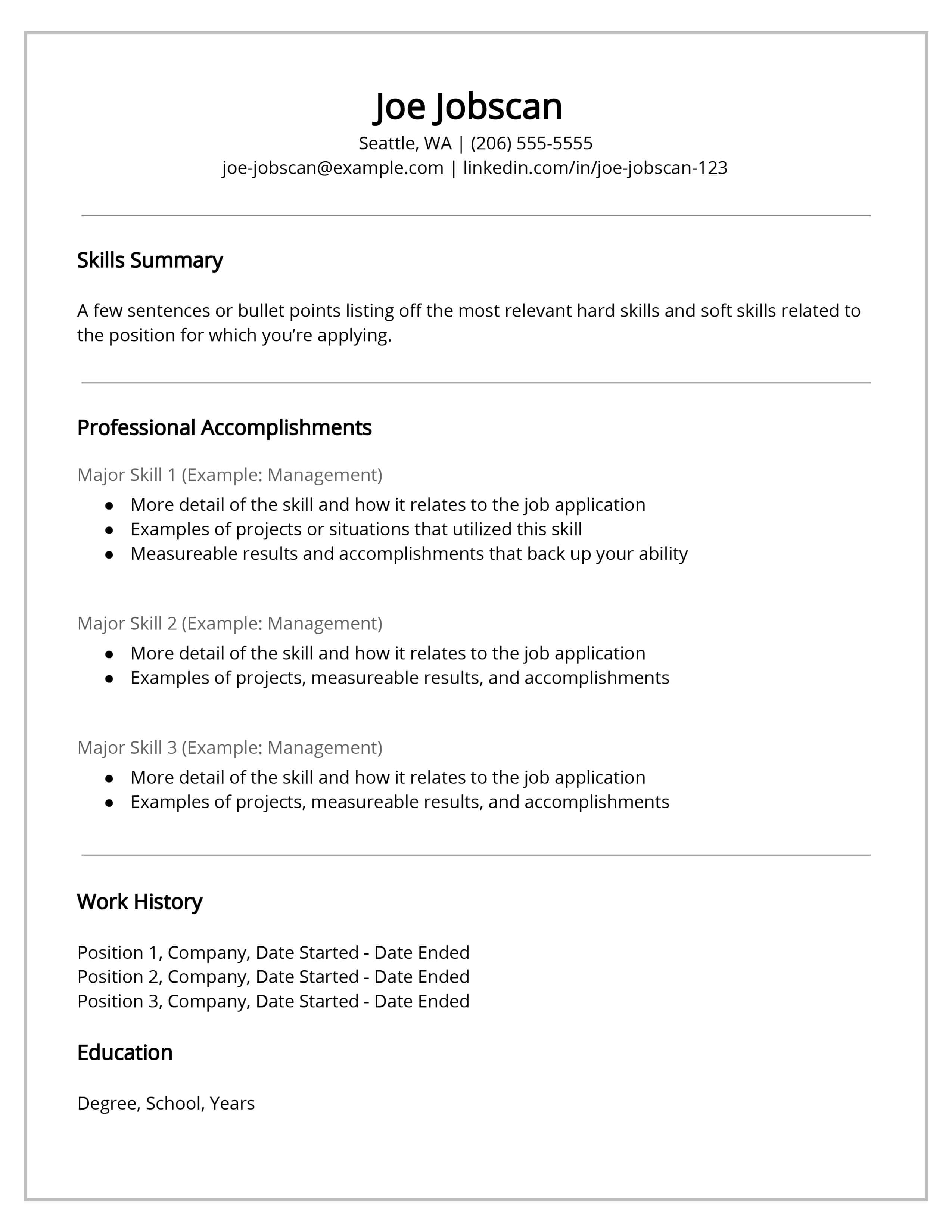 Functional Resume Template Example. Click to Enlarge.
Download docx
.
Why it seems like a good idea: By dedicating your resume's prime real estate to your most attractive skills and accomplishments, the recruiter might pay less attention to your unconventional work history or gaps in your resume.
Why it isn't: "Recruiters hate the functional resume," a veteran recruiter told Jobscan.
Recruiters aren't stupid. They know that you're using a functional resume to try and hide shortcomings on your resume. If anything, a functional resume draws more attention to whatever it is you're hiding because the format itself is a red flag.
Recruiters can't assign proper value to skills or accomplishments without context, so if they bother at all with your functional resume, the first thing they're going to do is dig deeper. Additionally, a functional resume format is highly unlikely to play nice with an ATS.
"I've seen plenty of people that try to use a functional resume and I tell them, 'You're just shooting yourself in the foot,'" concluded the recruiter.
What you should do instead: If a traditional reverse-chronological resume format isn't for you, try instead the hybrid resume format. More and more resumes are moving in this direction. You can add a few top skills and/or achievements at the top of the resume but still have room to validate them with detailed work experience. Recruiters and online application systems alike are more receptive to this format.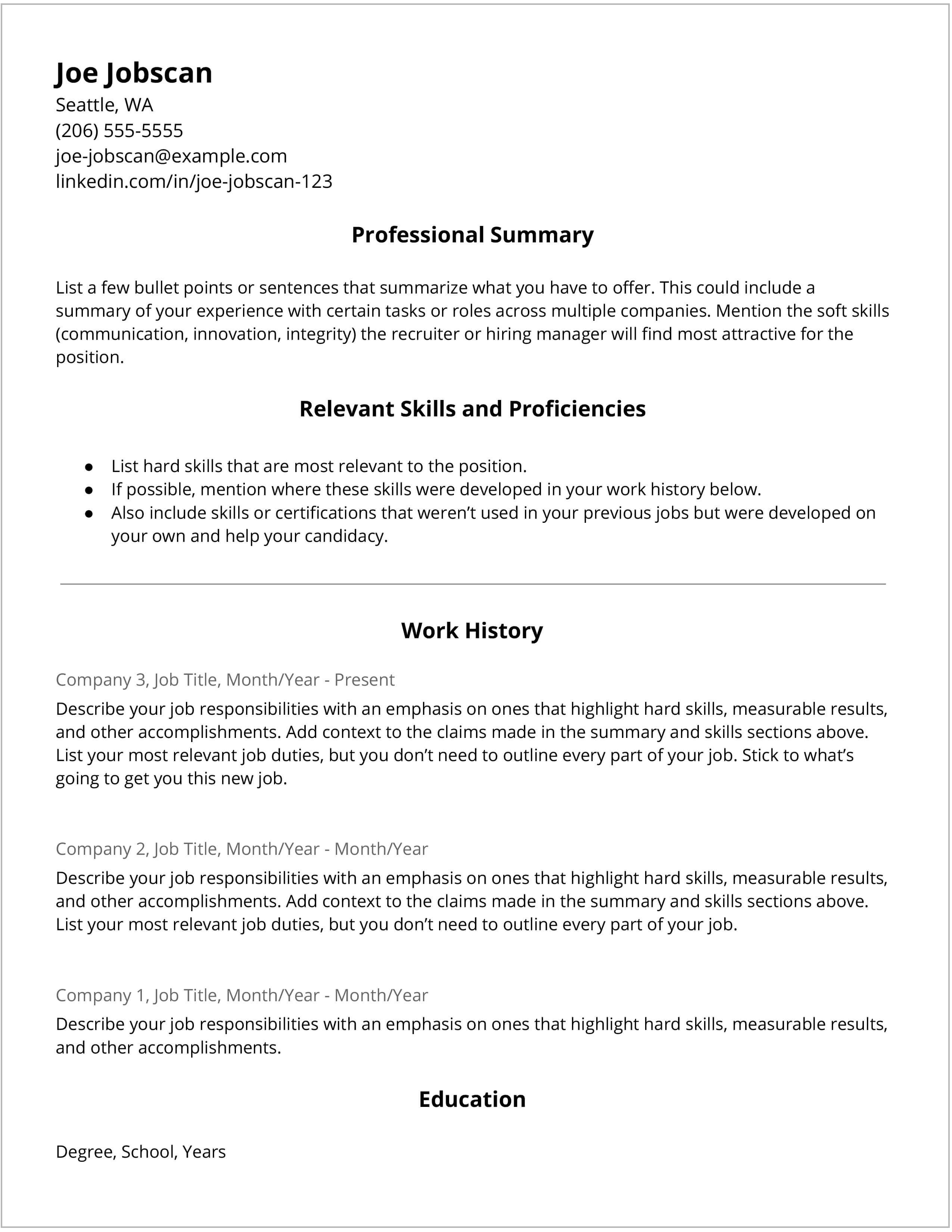 Hybrid Resume Template. Click to Enlarge.
Download .docx
Bad Resume Tip 3: Beat applicant tracking systems by using a word cloud tool
Using a word cloud to beat ATS algorithms is an extremely popular "resume hack" these days. These systems either analyze your resume contents and compare it to what's in the job description or parse your resume to make it searchable for recruiters.
Why it seems like a good idea: Running the job description through a word cloud tool like TagCrowd or WordItOut will reveal which words appear most frequently and, in theory, are most important to the hiring company. Adding these words to your resume should increase your chances of making it through the ATS.
Why it isn't: The logic behind this approach is sound but word cloud tools leave a lot to be desired as a job search tool. They aren't intelligent enough to recognize what is and isn't an actual skill, put together multi-word phrases, or ignore unhelpful filler words. This leaves you to sort through a great deal of noise in order to make the right changes to your resume.
What you should do instead: Jobscan not only calculates the frequency of words in a job description, it intelligently categorizes actual skills from the job description, compares them to what's in your resume, and breaks it all down into an easy-to-read report.

Making sure your resume is optimized for and compliant with ATS is a savvy and above-board job search technique. Trying to hack or cheat the system by secretly stuffing your resume with skills you don't possess is an easily discoverable tactic that will land you on a recruiter's bad side.
In the Reddit community "Unethical Pro Tips," a user suggested hiding the entire job description in your resume with white text while another suggested using Jobscan to figure out which keywords you should secretly stuff into your resume.
Why it seems like a good idea: It's true that these techniques could manipulate an applicant tracking system's ranking or search algorithm to make you appear to be a great match for the job.
Why it isn't: Many top applicant tracking systems parse your resume into a candidate profile, meaning that recruiters are looking at plain text fields instead of the resume you uploaded. A pasted job description would stand out like a sore thumb. Furthermore, many ATS highlight search terms so that recruiters can see the context of the keyword. Here's an example of what that looks like for an applicant who tried to secretly stuff the keyword "accounting" into their resume through Taleo.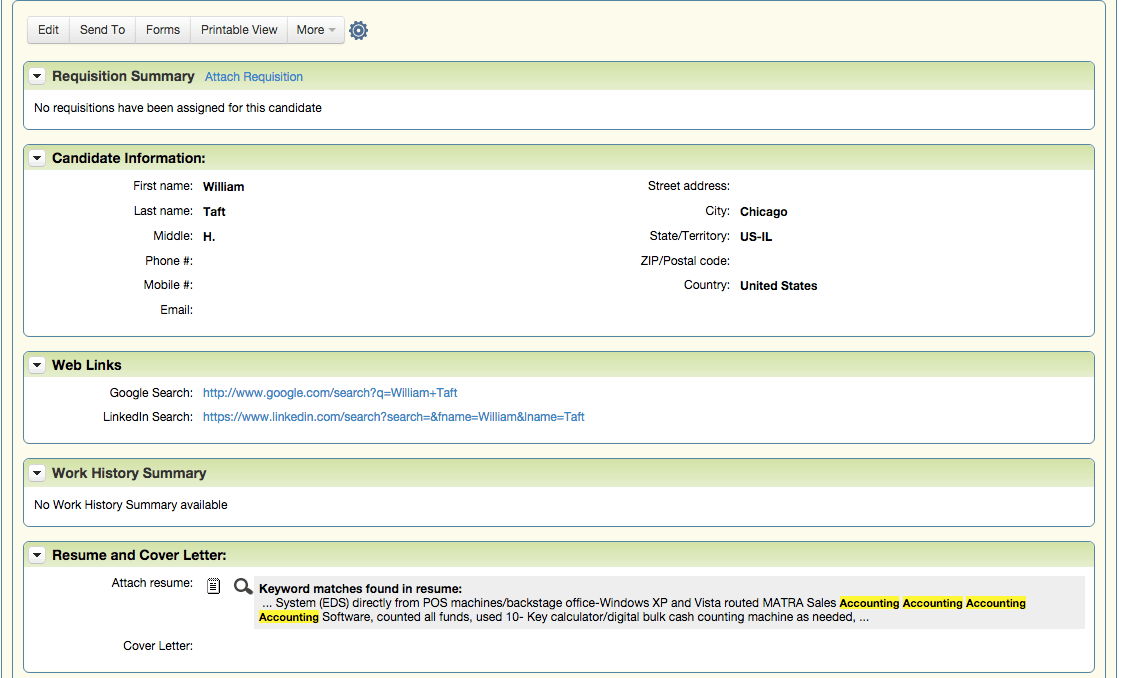 An applicant profile in Taleo, the most commonly used ATS. This applicant tried to beat the system using the hidden text method ("Accounting Accounting…"), but it's easy to spot once the resume text has been parsed into the system.
What you should do instead: Optimizing your resume with a tool like Jobscan isn't about tricking the system. It's about making sure your resume isn't missing anything and works in sync with the system. Add missing skills and keywords you actually possess into your resume as naturally as possible.
Bad Resume Tip 5: Always upload your resume as a PDF
Online applicant tracking systems accept a variety of file types when it comes to uploading your resume. Taleo, for example, can process RTF, DOC, DOCX, CSV, TXT, PDF, and several other file formats. No matter what's available, some people recommend always uploading a PDF.
Why it seems like a good idea: When it comes to other file types, the formatting can get messed up depending on which word processor, browser, or cloud app it's opened. By uploading a PDF, you lower the risk of a formatting error making your resume appear unprofessional. A PDF is more visually stable and will display your resume exactly how you designed it.
Why it isn't: If you're emailing your resume directly to a hiring manager, a PDF is a great way to go. However, if you're uploading your resume into an ATS that automatically pulls information from your resume into an applicant profile, a PDF's contents is less likely to be parsed correctly. This means that your application might be excluded from some search results or might not rank as well as it could.
What you should do instead: By using a standard text-based file type, like DOC or DOCX, and keeping your formatting simple, the system is more likely to understand and correctly parse your resume. This gives you the best chance possible to be a top result in an ATS.
Bad Resume Tip 6: Add fun colors, designs, or a headshot to help your resume stand out.
The job market is as competitive as ever, causing even the most highly qualified candidates to struggle to land interviews and offers. Because of this, folks are getting creative with finding ways to help themselves stand out from the crowd.
Why it seems like a good idea: Some people assume that when recruiters and hiring managers are swamped with a high volume of resumes, their eyes are more likely to glaze over and potentially not even notice a great candidate right under their noses. To this end, they recommend using bright colors instead of the classic black-and-white, adding personalized graphics, or even a professional headshot to the resume in the hopes of catching a recruiter's eye and enticing them to take a closer look.
Why it isn't: In the event that you're emailing your resume directly to a hiring manager, adding a small headshot or brand graphic could be a clever way to humanize your materials. However, if you're uploading your resume into an ATS, you're likely to run into similar parsing issues that you might encounter with the tips above. Unusual formatting can throw the technology for a loop, risking its accuracy when analyzing and ranking your resume.
What you should do instead: Fight the urge to get creative with your resume and stick to the traditional hybrid formatting to ensure your information is correctly scanned and processed. You can find opportunities to share your personality in the cover letter, email correspondence, or interviews.
Get customized tips for your very own resume by pasting it below:
Click to rate this article