There are many reasons for career changes: the realization of a new passion, a need for more financial security or the feeling of being stuck in an unfulfilling job, to name a few. Whatever the reason, career change is inevitable at some point in most people's professional lives.
Approaching a job search for an industry in which you have little to no experience takes some extra leg work, but it will pay off if you're willing to put in the effort. A critical asset in this transition is a career change resume that focuses on all the right things.
Career Change Resume Objective and Summary Statements
Resume objective statements are rarely used in the modern job search as they tend to focus on the job seeker's goals rather than tangible accomplishments. In their place, summary statements are typically used. However, a strong resume objective/summary statement hybrid can still be useful for a job seeker changing careers.
When writing your resume objective, turn your focus to the skills that you've picked up throughout your current career and explain how you plan to use them in this new industry. For example:
Accounting professional with over 10 years experience looking to transfer my skills to the finance industry. My proven mathematical and money management skills make me an ideal fit for the Finance Assistant position.
A resume objective or summary section is a great way to tie in past experience with present goals.
Kerianne Burke, Tech Recruiter at Segment in San Francisco told us, "First, the job seeker needs to give insights into how they have gained knowledge about this new category. Have they taken classes? Completed extensive independent research? Be very specific here! Second, they need to apply these learnings to something to show that they would be able to make an impact in the role they are applying for."
Choosing a Career Change Resume Format
Oftentimes, job seekers choose a functional resume for career change job searches. A functional resume can be appealing because it turns the focus away from work history and toward skills and accomplishments. Sounds perfect, right? A hiring manager might disagree.
A functional resume format can make it look like the job seeker has something to hide. A better option for most job applicants making a career change is the hybrid resume (also called a "combination resume"), which still showcases skills and accomplishments but includes a traditional work history in the second half of the document.
Here's the bottom line when it comes to resume format when changing careers: if you're staying within the same industry, a hybrid resume will work great for you. If you're changing careers and industries, you can consider a functional resume format, though the hybrid resume is likely still a better choice.
Use Keywords and Transferrable Skills
Resume keywords are a job seeker's BFF, but when making a career change, they are like your BFFL (best friend for life). Keywords are where you prove to the hiring manager, and to the applicant tracking system (ATS) they're using, that you are qualified for the position.

Even in a field that is brand new to you, you can find keywords that relate to your past experience. As Burke explains, "Look closely at the qualifications in the job description and tailor some of your first few bullets on your resume to highlight that applicable experience. It's always great to tie your impact to data when possible!"
Tailoring is key to a career change resume
For example, a job seeker with a background in journalism might recognize the keyword "writing" in the job description for an advertising position. While this job seeker doesn't have advertising experience, they do have expert-level writing skills that can transfer over to the new field. This is called a transferable skill.
Transferable skills are any skills that can transfer from one job to another. When switching careers, job duties tend to become irrelevant, since they are very specific to that previous career.
Certain skills, however, can link previous experience with the expectations of a new role. Transferable skills include both hard skills and soft skills, like writing (as mentioned above), multi-tasking, communication, organization, listening, research, and many more.
Try including these skills in your work experience section, focusing less on duties and more on the skills you have developed that will be of the most interest to the hiring manager. A hybrid resume format will help highlight these skills, which are likely your top selling points as a job seeker switching careers.
Adding training and certifications to your resume are another way to show off relevant skills during a career change, especially if you are making an industry change and are having a hard time identifying transferable skills.
Jobscan makes it easy to identify the most important skills on the job description so you know what to focus on. Try it below:
Career Change Resume Examples and Ideas
Here are a few ideas to get your resume writing juices flowing:
Free hybrid resume template found on Jobscan's Free Resume Templates page.
This functional resume format from Zety.com is an option for career change job seekers entering a brand new industry.
Careerplanner.com breaks down the various components of the hybrid resume.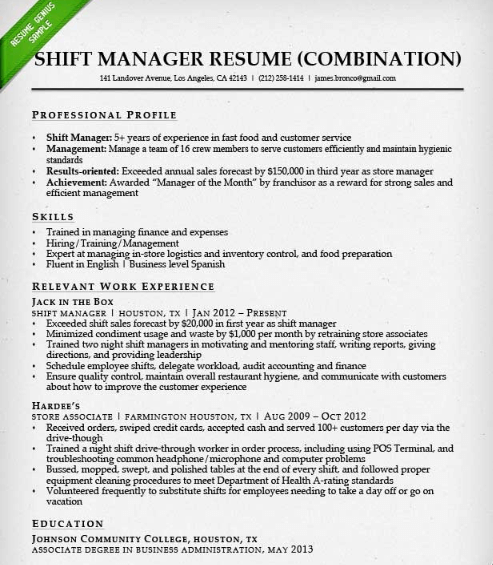 Resume Genius shows how to best feature a job seeker's skills in a combination resume without covering up work experience.
A Few Non-Resume Career Change Tips…
You have the perfect career change resume. What else can you do to help move your job search forward?
Cover Letters can be beneficial to career changers and non-career changers alike. A cover letter helps preface a resume, giving hiring managers an idea of your experience and goals, with added description which is often extraneous in a resume.
When should you include a cover letter? Only when one is requested. If a cover letter is not requested in the job description, you'll just be wasting your time on something that might not even be read.
Networking is the single best way for a job seeker to connect with industry leaders and peers. Seek out networking events relevant to the industry you're hoping to break into by searching Facebook and LinkedIn.
Speaking of LinkedIn, making meaningful business connections via this booming social media platform is easy. LinkedIn helps you make specific introductions with exactly the type of people you're hoping to work alongside. When connecting with someone on LinkedIn, consider adding a professional note asking to talk about their company or industry over the phone or a cup of coffee.
But before you reach out, make sure your LinkedIn profile is optimized.