While objective statements are ideal for some job seekers, resume summaries work better for others. Each type of introductory statement highlights a different set of goals and serves a different purpose. And, for many job seekers, neither resume introduction statement will be the right fit.
What is a Resume Objective Statement?
If you've been at this for a while, a resume objective statement is the introductory statement you are probably familiar with. Traditional resume objective statements simply stated the objective of the job seeker. For example:
"To obtain a search engine marketing position in the advertising industry."
However, objective statements have evolved in recent years to include additional context or the job seeker's broader goals. For example:
"Email marketing professional with 10 years of experience looking to transfer my skills into SEM and Advertising."
Resume objective statements focus on the job seeker's objective. They are concise and tailored to the job you are applying to. Though useful in some cases, resume objective statements are less commonly used in today's job searches due to the fact that for most job seekers, they take up space without offering value.
What is a Career Summary Statement?
A resume summary statement highlights the job seeker's skills and the proven ways in which they've used those skills to achieve results. Specifically, summary statements use work history to show the hiring manager why the job seeker is the best fit for the position.
Unlike the resume objective statement, career summary statements focus more on the company's needs, not the needs of the job seeker. For example:
"With 15 years of financial planning experience, I've maintained over 200 client relationships while helping develop, and eventually managing, the company's CRM system."
The career summary (or summary statement) answers "what can I do for you?" It uses solid work experience and accomplishments to prove the job seeker's value. In order to do this, it often includes credentials, certifications, and measurable accomplishments.
Resume Objective vs. Summary
When writing a resume summary or resume objective statement, job seekers should reference the job posting for relevant keywords and job requirements. However, the voice, use of metrics, goals, and purpose of the two introductory statements are different. We've highlighted the major differences between resume summaries and objective statements below.
Voice:
A resume objective uses passive voice, whereas resume summaries use active voice and action words ("Increased sales goals…").
Active voice makes a job seeker sound more confident, crediting their own hard work for positive outcomes. Passive voice sounds weak and lacking in confidence.
Metrics:
While a resume objective typically does not call out metrics, resume summaries do. Metrics help prove a job seeker's accomplishments using hard evidence like percentages, dollar amounts or years.
For example, "Increased sales goals by 13% between August 2017 and March 2018."
Goals:
Both resume objectives and resume summaries include goals. However, resume objectives tend to focus on the job seeker's goals. Summary statements shift the focus from the job seeker to the company, describing goals that relate directly to the company's needs.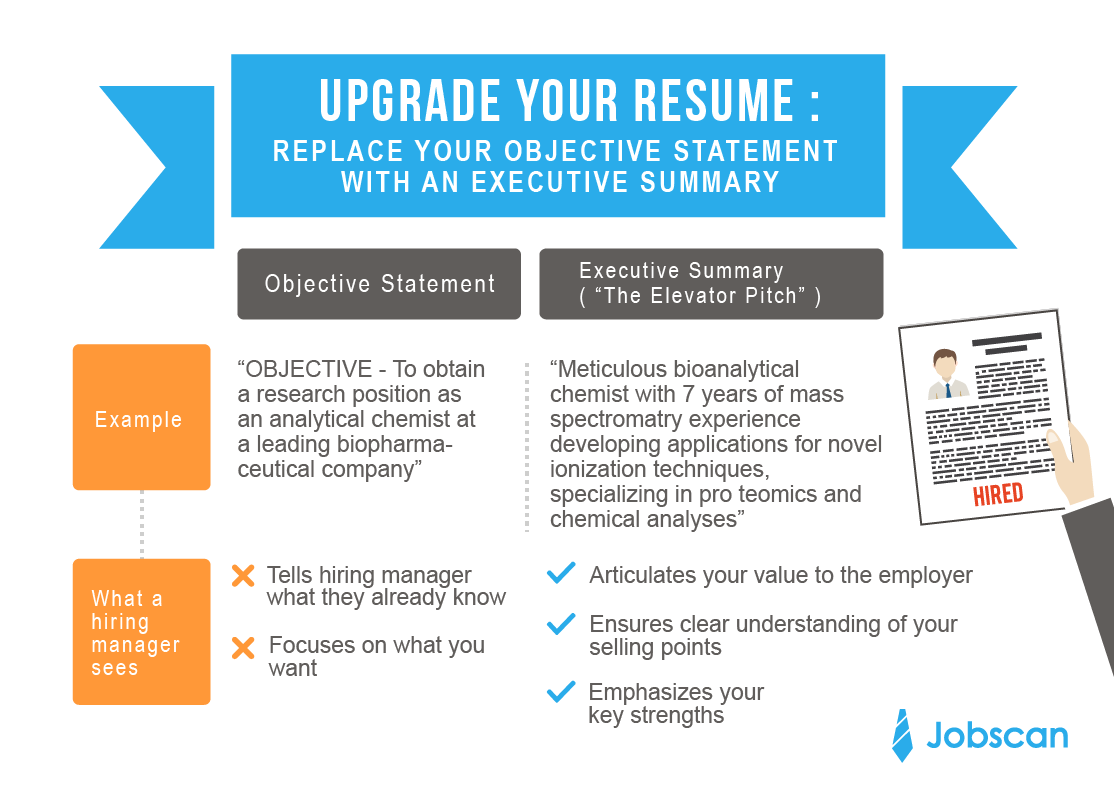 What's Best for a Career Change?
For job seekers embarking on a career change or just joining the workforce, a strong, modern resume objective is often a good fit.
For job seekers with a lot of experience in an unrelated field, a resume objective helps set up that work experience in a way that highlights transferable skills. For example, if a job seeker is applying for a job in advertising but only has experience in consumer sales, he/she could write a resume objective that says:
Throughout my 13 years in Native Advertising, I have learned how to analyze data and metrics strategically and collaborate with team members. I am looking forward to utilizing and expanding my skills in consumer sales.
The career change objective statement above focuses on the job seeker's top skills, helping the hiring manager to find relevance in the resume that follows.
Resume objective statements and resume summary statements are often thought to be one and the same. However, introductory statements should be used strategically when writing your resume, as both summary statements and objective statements serve different purposes.
---
This article was originally published on February 24, 2015. It was rewritten on June 13, 2018.
Click to rate this article