Replying to a job listing isn't the only way to find a job. Recruiters for companies large and small are constantly looking for the right people to improve their teams, whether or not those people are job searching. This happens on LinkedIn more than anywhere else, meaning one of the best ways to get a leg up in your job search is to write a LinkedIn profile that helps recruiters find you.
LinkedIn sells tools that enable recruiters to uncover talent. Understanding how these tools work helps you create a LinkedIn profile that recruiters will find. In this article, we'll explore four ways searches, filters, and views work within LinkedIn Recruiter from the perspective of job seekers.
1) A recruiter's first look
Back in 2012, the Ladders published an influential study in which the eye movements of recruiters were tracked as they reviewed resumes. The study found that "almost 80% of their resume review time" was spent looking at the following information:
Name
Current title, company, and tenure
Past titles, companies, and tenures
Education
LinkedIn Recruiter confirms that this is what recruiters care about most when performing initial screenings. As recruiters begin adding filters and viewing candidates, LinkedIn shows a simple breakdown of each candidate made up of:
Name
Photo
Headline
Current title, company, and tenure
Past titles, companies, and tenures
Education
Your photo and headline are the only things in this view that you have total control over as a candidate. Use a professional-looking headshot and write a robust and unique LinkedIn headline that will enable you to stand out in these views.
2) Standard search fields and filters
The recruiter's default options for searching and filtering applicants include job titles, locations, skills, companies, year of graduation, schools, industries, and keywords. They can mix and match these fields or search multiple values at a time in order to uncover their ideal candidate.
A few things to note in these sections:
Job titles
This field auto-populates with the most common job titles as the recruiter begins typing. For example, if they type "Customer Service," it shows options for "Customer Service Representative," "Customer Service Specialist," and so on.
Recruiters typically prefer someone who has done the job before, so they'll target specific job titles. Ensure that your headline and work experience includes traditional titles for the work you've been doing if your past jobs don't reflect that.
It's OK to adjust your job titles to account for this. For example, if you held a vaguely titled role that didn't capture where you spent most of your time, use parentheses to add additional context as well as populate your profile with job titles relevant to your job search. If your official job title was "Marketing Associate" but you specialized in a couple particular areas, you might addend it with "(Social Media Coordinator, Content Specialist)."
If you take liberties with your job title, approach it from a standpoint of adding clarity rather than boosting your credentials. Honesty is important here.
Locations
LinkedIn only requires you to specify a country when creating an account. Recruiters will almost always be filtering their searches by location, so by adding your zip code and specifying a geographic area (like "Seattle, Washington" or "Greater Seattle Area"), you put yourself in the way of exponentially more searches.
Skills
These are the hard and soft skills found throughout your profile.
While it may not seem intuitive, the list of skills in your "Skills and Endorsements" profile section is not enough to rank highly in LinkedIn Recruiter skills searches. Skills found in the work experience, headline, summary, and other sections are actually weighted more heavily in search. After all, recruiters want to know the context in which you acquired and developed a skill.
Make sure your top skills can be found throughout your profile. Jobscan's LinkedIn Optimization tool helps you see the most relevant and impactful skills that are missing from your profile.
3) Advanced search fields and filters
LinkedIn Recruiter also provides a number of advanced search options.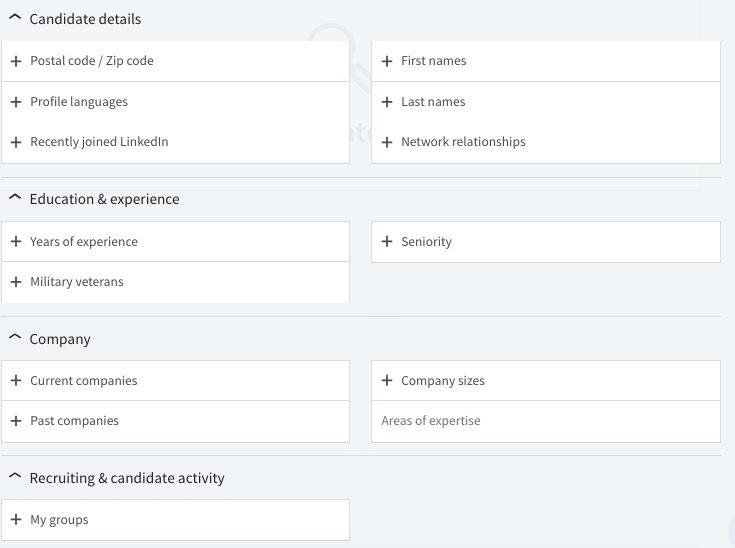 Zip code
Recruiters can filter their searches based on proximity to zip code. If you live outside of the city but are accustomed to or willing to commute 25-plus miles to work, it might be beneficial to enter the zip code of the city center rather than your home. The same logic applies if you are actively planning a move to a new area.
Military veterans
Whether a recruiter has a personal preference for ex-military or their company has an initiative to hire more veterans, anyone with a military background can benefit from this filter. However, simply mentioning in your LinkedIn summary that you're a veteran won't add you to the list.
Add your military experience as part of your Work Experience section. You'll only be in the running for these searches if you select the official branch of the military.
My groups
In some instances, recruiters might find higher-quality candidates within specialized LinkedIn groups. For example, a recruiter that specializes in the video game industry might be a member of and search within the Game Developers group, or a recruiter searching for a military veteran might search within the Veteran Mentor Network group. Join groups relevant to your career aspirations.
Keep in mind that the recruiters can see all the groups and companies you follow on your profile. Don't join groups or follow companies that could cast you in a poor light.
4) Career interests and LinkedIn Recruiter
The above insights were based on LinkedIn Recruiter Lite. LinkedIn also offers more robust (and expensive) packages with even more search options and insights.
Fill out your "Career interests"
Some of these packages include additional candidate filters and insights based on how you fill out your Career Interests section. be sure to update this section if you're job searching. It's found on your profile dashboard between your basic info and work experience.
In this section, you can indicate to recruiters that you're open to being contacted, leave a note, add job search details, job titles of interest, additional locations, types of employment, industries, company size, and more.
Filling out this section makes you eligible for additional filters. It also adds badges (known as Spotlights) to your profile in a recruiter's search, such as "Open to new opportunities" or "Open to relocate." Recruiters get additional insights and summaries when they hover over these badges.
Engage on LinkedIn
Another way to draw extra attention on LinkedIn Recruiter search is to interact with LinkedIn in strategic ways. Log in to LinkedIn regularly. Expand your network to increase the number of first-, second-, and third-degree connections between you and recruiters or people at target companies. Follow target companies and interact with their content. This will help you earn badges like "Likely to respond," "Company connections," or "Engaged with Your Talent Brand."
Get found on LinkedIn Recruiter search
Understanding the tools recruiters use allows you to be strategic about the way you use LinkedIn to job search. Optimize your LinkedIn profile for recruiter searches to get a leg up on candidates who are relying on resumes and job applications.
Click to rate this article